Italy's Extreme Rainfall Examined With IMERG
During the past week a strong low-pressure system moving through southern Europe battered, drenched and flooded Italy. It caused flooding, landslides and other damage to large areas of the country. The deaths of at least 11 people have been attributed to this stormy weather. High winds knocked down many trees and heavy rainfall from these storms contributed to flooding in large areas of Italy. Venice was inundated when heavy rain fell and a surge of water from the Adriatic Sea was pushed into the city by the storm's very high winds.
Data from various satellites, that cover most of the globe, are routinely stitched together by NASA and used to calculate rainfall amounts. Those data are used to form in near real-time precipitation measurements called Integrated Multi-satellitE Retrievals for GPM (IMERG). The rainfall accumulation analysis above uses IMERG data generated during the period from October 26 to November 1, 2018. This IMERG rainfall accumulation analysis revealed that the most extreme rainfall in southern Europe was concentrated in northern Italy. IMERG indicated that storms inundated that area with rainfall totals often greater than 508 mm (20 inches).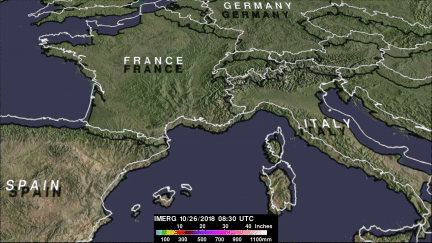 Images and caption by Hal Pierce (SSAI/NASA GSFC)