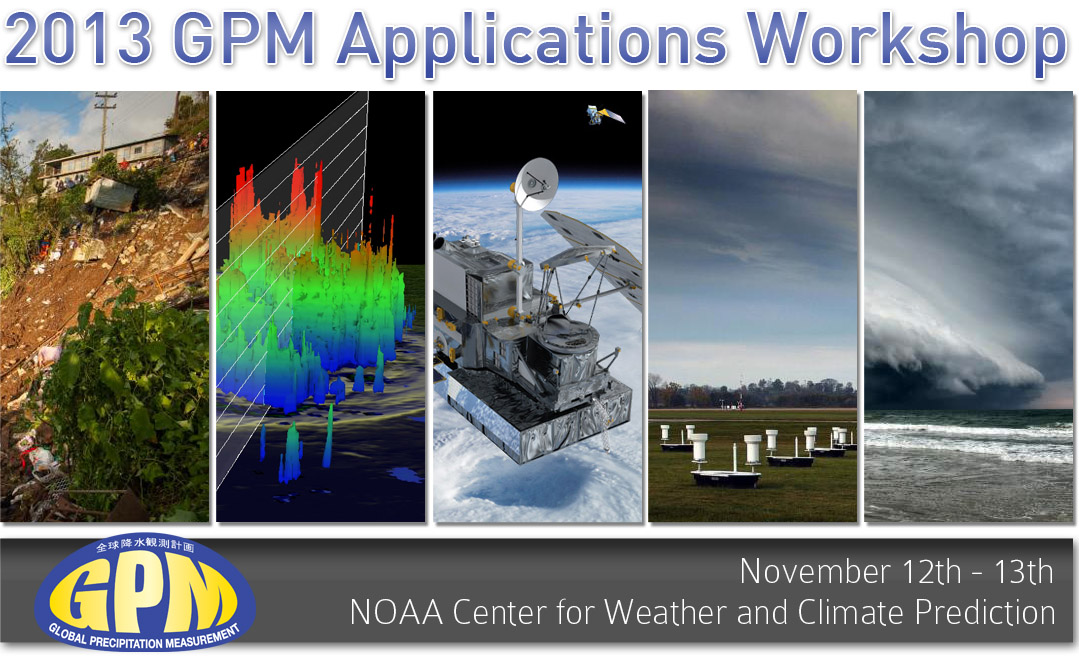 Date:
November 12-13th
Location:
NOAA Center for Weather and Climate Prediction
University of Maryland M Square Research Park
College Park, MD 20740
Remote Meeting Information (WebEx)
URL: https://meetings.webex.com/collabs/meetings/join?uuid=M1LOJW7ZTDS0C79V58JILMVIU6-FMOH
Meeting Number: 190 840 131
Audio Connection:
Call-in toll number (US/Canada): 1-650-479-3207
Call-in toll-free number (US/Canada): 1-855-244-8681
Access code: 190 840 131
Presentations from yesterday are now available at: http://pmm.nasa.gov/meetings/2013-gpm-applications-workshop/presentations
Info:
The Global Precipitation Measurement (GPM) and Tropical Rainfall Measuring Mission (TRMM) will hold its first Applications Workshop on November 12-13th, 2013 at the NOAA Center for Weather and Climate Prediction in College Park Maryland. This two day workshop will explore topics of weather forecasting, water resources, agricultural modeling, food security, hydrological modeling, disaster response, ecological forecasting and public health with respect to applications of TRMM and GPM satellite data. The goal is also to broaden the discussion to address the range of current and future applications of satellite data to science and societal applications and provide feedback to the TRMM and GPM teams with respect to data access, suggestions and questions.
Purpose:
Update the Earth science and applications communities on TRMM and GPM including:

instrument specifications
data characteristics
access to data and data products
transition from TRMM

Review applications of data from GPM in four elements of the Applied Sciences Program:

Weather Forecasting
Water Resources, Agricultural Forecasting and Food Security
Hydrological Modeling and Disaster Response
Ecological Forecasting and Public Health

Provide an opportunity for community feedback to NASA on data products, data access and other user needs.
Intended audience:
Earth observation data users and end users in the science and applied science communities and all sectors – government, commercial, non-government organizations and academia
This will be the first of what the Applied Sciences Program intends to be a series of annual to bi-annual workshops on this mission to keep the community informed on GPM's performance and use of data in applications.
There is no registration fee to participate in this workshop but registration is required.
Registration Deadline: November 1st, 2013
On-site Registration is also Available
Hotel Room Reservation Deadline: November 1st , 2013

Agenda/Posters
(updated 11/6/13)

Poster Sessions
To present a poster, please register your poster title and authors via the meeting registration page. The poster session will be held from 4:30-6:30pm on Tuesday, November 12th. There are a limited number of poster slots and participation is on a first-come, first-serve basis.
Presenters are asked to limit posters to 4 ft x 4 ft (1.2 m x 1.2 m) in dimensions to accommodate as many posters as possible. Poster boards and pushpins will be available to display your poster.

Lodging
Room Reservations at:
Greenbelt Marriott,
6400 Ivy Lane,
Greenbelt, Maryland 20770
A block of rooms has been reserved at the Greenbelt Marriott at a rate of $169 per night. The hotel will provide shuttle services to and from the NOAA Conference Center. You can make reservations by calling 1-800-228-9290 and using the reservation code GPMO or by clicking on this link:
Book your group rate: Global Precipitation Measurement (GPM) Applications Workshop
The block of rooms will only be held until October 14th so please make your reservations prior to this time.
If you need to cancel your reservation, please do so 24 hours in advance of your scheduled arrival to avoid being charged a cancelation fee. Guests are responsible for any cancelation fees.
Hotel Parking
Complimentary on-site parking
Local attendees are responsible for confirming hotel accommodation rules with their companies.
Holiday Inn in College Park
10000 Baltimore Av.
College Park, MD 20740
Hotel Front Desk: 1-301-345-6700
Hotel Fax: 011-301-441-4923
Book by calling: 1-800-315-2621

Hilton Garden Inn
7810 Walker Drive
Greenbelt, MD 20770
Hotel Front Desk: 1-301-474-7400
Hotel Fax: 1-301-474-7411


Registration
On-site Registration is also Available.
Registration Deadline: November 1st, 2013
Hotel Room Reservation Deadline: October 14th , 2013

Food Options
The NOAA Center offers little in the way of nearby restaurants. We recommend you order lunch in advance from the Kloud Café at the link set up for this conference:
https://kloudcafe.wufoo.com/forms/nasa-2013-gpm-application-workshop
The 17 different boxed lunches available include a sandwich with a side salad or a large specialty salad with chips and a beverage. The menu includes vegetarian and gluten-free options.
In addition to the above option, we will try to have some food trucks on hand for more diversity. If available, you can purchase these food options at the time.
We will reserve space at one to two restaurants on Tuesday, Nov. 12th for those that are staying near the Conference Center. Please stay tuned for this dinner option. Everyone will be required to pay for their own meal.

Transportation
There are many options to travel to the National Center for Weather and Climate Prediction. There are three airports within 35 miles of the Hotel and NOAA Conference Center. Transportation options include metro, taxi, bus or commercial group shuttle.
BWI Airport, MD 21240
2401 Smith Blvd
Arlington, VA 22202
1 Saarinen Circle
Dulles, VA 20166-7506
Local Transportation Information
Metro
UMD runs a shuttle from College Park Metro, to the NCWCP. 6am - 9am, 3pm - 6pm, every 15 minutes.
Super Shuttle
Provides door-to-door shared-ride service in the area from 5:30 am to 12:30 am daily. Twenty-four hour advance reservations are recommended.
Parking
Complementary parking is available at both the NOAA Conference Center and Greenbelt Marriott.
Transportation (via hotel shuttle) will be provided from the Greenbelt Marriott to the NCWCP (workshop site). No other hotels will have transportation specifically designated for the workshop.
Registration Closed
(updated 11/6/13)
SECTIONS
Download PDF Flyer
(updated 10/31/13)
KEYWORDS
SHARE THIS ARTICLE