CoCoRaHS
Comparing ground measurements to satellite measurements is an important part of understanding satellite data. The process, called ground validation, is a major part of Global Precipitation Measurement (GPM) science.
To explore ground validation and precipitation science, GPM is partnering with the citizen science non-profit group Community Collaborative Rain, Hail and Snow Network (CoCoRaHS, pronounced co-co-RAZ). CoCoRaHS is a community-based network of volunteers of all ages and backgrounds that work together to measure and map rain, hail and snow. The program provides training and uses low-cost rain gauges and other measurement tools to collect their data and posts it on an interactive website (url). The only requirements are an enthusiasm for watching and reporting weather conditions and a desire to learn more about how weather can affect and impact our lives.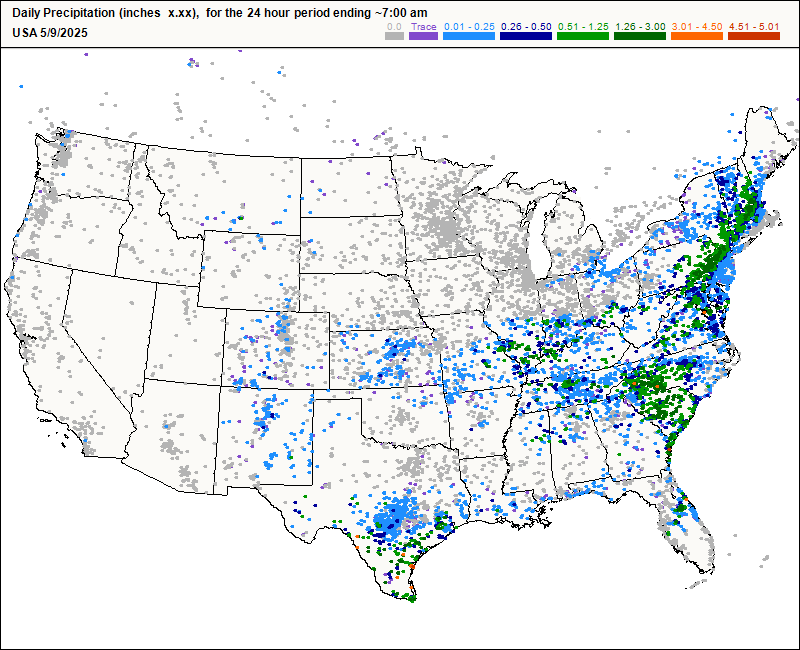 This image shows precipitation (inches) for the the most recent 24 hour period ending at 7:00AM.
GPM and CoCoRaHS coordinating staff work with researchers at Wallops Flight Facility on Virginia's Eastern Shore, home of a network of specialized rain gauges and radars for measuring rainfall for GPM's ground validation. Together, they're developing hands on science activities focused on precipitation topics for use in formal and informal education settings. The educational activities focus on how rain gauge information from the CoCoRaHS network, which covers all 50 states, can be evaluated statistically and compared to results with satellite measurements over the same areas. Students will use data sets and and protocols for rain collection at Wallops to learn about the theoretical aspects of rain collection, validation efforts scientists use to evaluate satellite measurements, and seasonal and climate variability of rainfall in the Eastern Shore region.
GPM will also engage the CoCoRaHS participants around the United States through an interactive series of Webinars that focus on GPM science and engineering as well as how these measurements may be used for calibration and validation of satellite measurements.