Rain EnGAUGE
Celebrate the launch of the Global Precipitation Measurement (GPM) Mission by hosting a GPM Rain EnGAUGE Event – a family science night at your school, outdoor education center, library or museum. See below for a full electronic toolkit, including activities menu, planning schedules, a sample advertising flier, and more. For the most up-to-date information and new activities as they are developed, check back here or contact us for more details. The satellite launches in February 2014, so the celebrations can start as early as March, but get your GPM Rain EnGAUGE Event on the calendar for your organization today. Please make sure you contact us if you plan to host an event so that we can send you a supply kit with GPM stickers, water droplet handouts, lithographs, and other materials to help you run your activities!
Contains a description of the GPM mission, a planning calendar, and sample schedule for an event, as well as many more details and helpful hints.
Other Electronic Resources: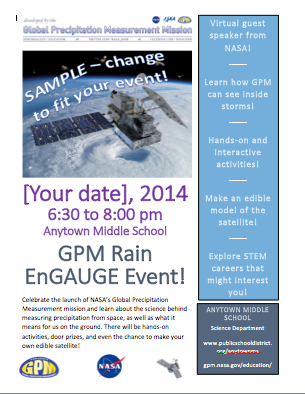 Activities Menu – choose which activities best fit your needs
Sample Flier to Advertise the Event (.docx) - customize to fit your event
Templates to make extra "GPM Ambassador" stickers for volunteers (they say "Ask me about GPM!"):
GPM Presenter Resources:

A ready-to-go PowerPoint presentation that includes photos, videos, and talking points: Download Here (.zip, 164 MB)
An all video (no audio) playlist that you can load into your media player that will accompany your talk. Includes talking points: Download Here (.zip, 343.7 MB)

A sample evaluation form, to measure the effectiveness of your event. Download Here (.pdf, 0.2 MB)

Share your data (and a few photos of your event) with us and you'll receive a special GPM education tool to use with your students or visitors!
Items that will arrive in your mailed kit, if requested from GPM:
A few sheets of GPM Ambassador stickers

Supplies for some of the activities (see the Activities Menu for details)