2015 Master Teachers: Peggy Foletta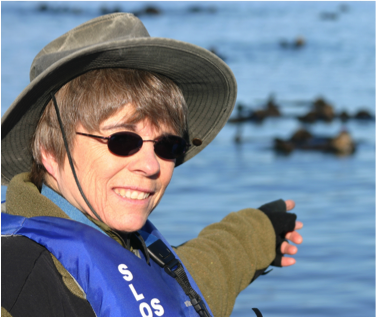 My name is Peggy Foletta. My current position is in informal education. I am an Education Specialist at Elkhorn Slough National Estuarine Research Reserve, one of 28 such reserves in the US. Elkhorn Slough is an embayment of the Monterey Bay in central California. We lead teacher trainings and host field trip visits for K-college classes. As part of the education staff my job entails developing curriculum for teachers who attend our workshops and planning activities for K-college class visits to our site. I oversee our microscope lab in which students observe and study slough plankton and macro invertebrates, and organize water quality investigations conducted on their visits. We are revising our curriculum this year and I view the opportunity working with the GPM teacher team will have a positive impact on education at our site.
I have 37 years of high school science teaching experience at Kingsburg High School in the Central Valley of California. Using GLOBE protocols our students have investigated air and water quality issues from our school in the valley up through Yosemite National Park in the Sierra Nevada mountains. Having been involved with the GLOBE Program since it began back in 1995 as teacher, Master Trainer, and Partnership Coordinator, I've witnessed the program'a growth and evolution. Having mentored multiple GLOBE student teams, many who presented at the Global Learning Expeditions, I have had an opportunity to interact with international GLOBE community leaders, teachers, and students. This has provided me a global perspective of how powerful the program is in many GLOBE countries, and how the program has facilitated life-long connections among students across the world. I have seen how GLOBE has contributed to students' world view of becoming global thinkers and conservation advocates.