Bomb Cyclone and Atmospheric River Hit the Pacific Northwest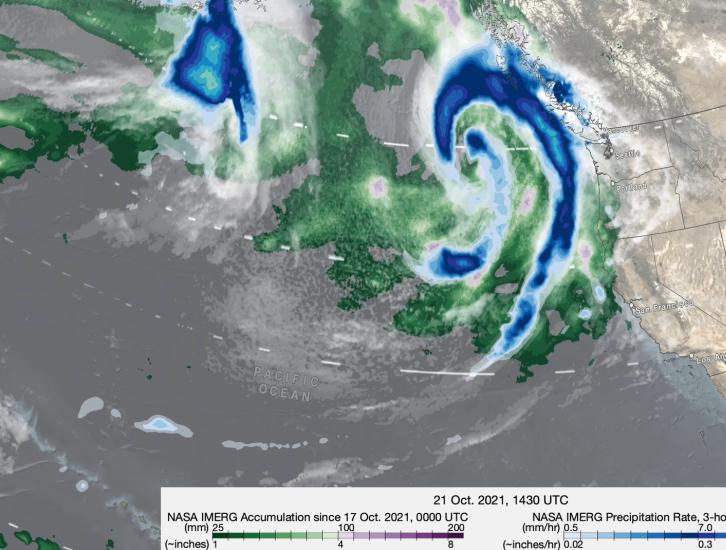 Bomb Cyclone and Atmospheric River Hit the Pacific Northwest
Thursday, October 28, 2021
The Pacific Northwest experienced a memorable series of storms in late Oct. 2021 as several low-pressure systems rolled in from the northeast Pacific Ocean. One of the systems was classified by meteorologists as a "bomb cyclone", meaning that its central pressure (an indication of storm strength) had dropped particularly rapidly in a short time period. At its minimum pressure (highest strength), the system was reported by the National Weather Service to have had the lowest pressure of a system over the northeastern Pacific Ocean since reliable observations began in 1974. The system was notable not just for its low central pressure, but for its occurrence together with an atmospheric river. Atmospheric rivers are narrow corridors of water vapor that are transported through the atmosphere from warm, tropical regions to cooler, poleward regions, and are responsible for as much as half of a given year's precipitation in regions such as central California. 
Download video (right-click -> "Save As")
This animation shows precipitation rates (blue/yellow shading) and accumulations (green/purple shading) during the 10-day period of Oct. 17 - 26, 2021, from NASA's multi-satellite IMERG product, overlaid on cloudiness data (white/gray shading) from infrared observations from geosynchronous satellites. Massive, arching rainbands (blue shading) that accompany low-pressure systems over the Northeast Pacific Ocean can be seen traveling eastward, delivering much-needed precipitation to the Pacific Northwest coast and central California, which was suffering from an extreme drought and an unusually long wildfire season. By Oct. 24 - 25, the "bomb cyclone" system's center could be seen rotating not far off the coast from Seattle, while the atmospheric river along its southern edge dumped precipitation first across northern California, then southward past the San Francisco Bay Area. The National Weather Service reported that many parts of northern California received over 4 inches of rain, broadly consistent with IMERG estimates, shown in shades of purple. As the precipitation moved further inland, some of it fell as snow as it reached the mountains, giving a head start to the snowpack that is critical to California's water supply. According to the National Weather Service, 1 - 2 feet of snow fell in parts of the Sierra Nevada mountains, while the Cascades further north received smaller amounts. 
NASA's IMERG data product offers near real-time, global coverage of precipitation across land as well as the ocean, allowing for a complete picture of the development of extreme weather such as bomb cyclone and atmospheric river systems. This allows meteorologists and water resource managers the ability to better plan for the arrival of such events and contributes to better forecasting of future weather extremes.
Credits:
Animation and story by Jason West (NASA GSFC / PPS / KBR, Inc.)