Dangerous Hurricane Willa Probed By GPM Satellite
Dangerous Hurricane Willa Probed By GPM Satellite
Hurricane Willa was moving northward toward the western coast of Mexico when the GPM core observatory passed above on October 21, 2018 at 1:51 PM MDT (1951 UTC). The hurricane had maximum sustained winds of about 95 mph (109 kts). Since then Willa has rapidly intensified and today has winds of 155 mph (135 kts) making it a dangerous category four on the Saffir-Simpson hurricane wind scale. GPM's Microwave Imager (GMI) and Dual-Frequency Precipitation Radar (DPR) instruments collected data showing that hurricane Willa and feeder bands were producing heavy rainfall over a large area. The location of precipitation in Willa's well defined eye wall was made evident by GPM's radar (DPR Ku Band). DPR indicated that a few powerful convective storms within Willa were dropping rain at a rate of over 6.3 inches (160 mm) per hour.
This simulated 3-D view from the south-southeast reveals hurricane Willa's rainfall structure. It was developed using GPM's radar data (DPR Ku Band). That DPR data enabled a cross-section view that shows the anatomy of precipitation around hurricane Willa's eye. Intense radar echoes of up to 57dBZ are shown (dark red) in this slice through the center of the intensifying hurricane. GPM's radar shows that a few powerful storms in the eye of the hurricane were reaching heights above 8.7 miles (14.0 km). These tall storms referred to as "hot towers" are often an indication of hurricane intensification. These powerful convective storms near the center of the hurricane were releasing energy in the form of latent heat of condensation that powers the hurricane.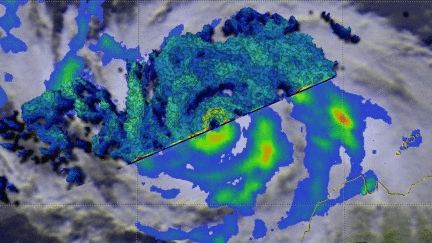 The National Hurricane Center (NHC) predicts that conditions are favorable for Willa to still be a dangerous hurricane when it reaches the coast of southwestern Mexico on late Tuesday or early Wednesday. Life-threatening storm surge and flash flooding is forecast to accompany Willa's damaging hurricane-force winds. Moisture transported from Willa and remnants are also expected to move heavy rain into Texas this week.
Images and caption by Hal Pierce (SSAI/NASA GSFC)