GPM Sees Heavy Rain In Menacing Hurricane Florence
GPM Sees Heavy Rain In Menacing Hurricane Florence
Last Friday Florence was a sheared tropical storm but on Saturday vertical shear lessened and Florence started to get better organized. Today hurricane Florence is rapidly strengthening. The National Hurricane Center (NHC) predicts that Florence will be a major hurricane with maximum sustained winds peaking at 130 kts (~150 mph) on Wednesday when it is over the open Atlantic well southwest of Bermuda. The NHC predicts that Florence's winds will decrease slightly to 125 kts (144 mph) as the hurricane threatens the southeastern United States on Thursday September 13, 2018.
OVERPASS 9/9/18:

View fullscreen in STORM Event Viewer
The GPM core observatory satellite had a fairly good look at Florence on Sunday September 9, 2018 at 2:13 PM EDT (1813 UTC). The intensifying hurricane had maximum sustained winds of about 70 kts (81 mph) at that time. GPM's Microwave Imager (GMI) instruments revealed distinct rain bands wrapping around hurricane Florence's southeastern side. Algorithms developed by NASA's Precipitation Measurement Missions (PMM) team were used with GMI data and estimated that precipitation was falling at a rate of greater than 44 mm (1.7 inches) per hour in the rain band southeast of Florence's eye.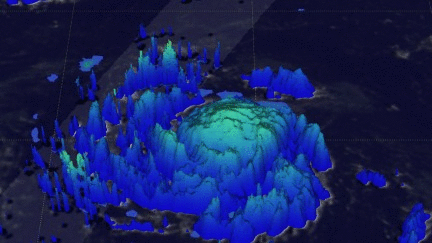 This 3-D animation shows the relative heights of storm tops within hurricane Florence at the time of the GPM satellite pass. Estimates are based on data observed by GPM's radar (DPR Ku Band). Those data were blended with estimates from geostationary satellite cloud top temperatures.
UPDATE 9/7/18:

View fullscreen in STORM Event Viewer
Battling intense shear, Florence weakened to feature maximum sustained winds of only 50 knots. Both the GMI and DPR illustrate the impacts of this shear, with all of the major convection displaced from the center of circulation. Florence would rebound in intensity in subsequent days as the shear abated. It is expected to reach Category 3-4 intensity before making landfall on the mid-Atlantic coast of the United States.