GPM Sees Hurricane Florence Swirling In The Central Atlantic
GPM Sees Hurricane Florence Swirling In The Central Atlantic
Hurricane FLORENCE became more powerful over the past few days while moving through the central Atlantic Ocean. Wind speeds increased from tropical storm force to hurricane force on Tuesday. FLORENCE's maximum sustained winds were about 85 kts (98 mph) early today making it a category two hurricane on the Saffir-Simpson Hurricane wind scale. Hurricane FLORENCE is being steered toward the northwest by the Atlantic subtropical ridge. Early next week the National Hurricane Center (NHC) predicts that hurricane FLORENCE will have moved to a location southeast of Bermuda.
The GPM core observatory satellite passed over hurricane FLORENCE on Wednesday September 5, 2018 at 0514 UTC. Data collected by the GPM satellite's Microwave Imager (GMI) instruments showed the intensity and location of precipitation around the center of the hurricane. GPM's GMI revealed that storms north of FLORENCE's eye were producing heavy rainfall. The GPM satellite's Dual-Frequency Precipitation Radar (DPR) scanned the nearly rain free areas to the the west of hurricane FLORENCE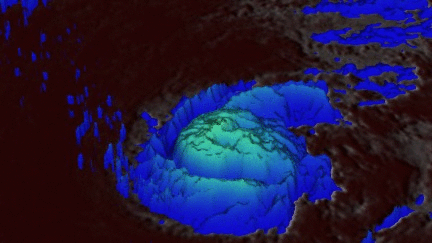 This 3-D animation shows the estimated heights of storms within hurricane FLORENCE at the time of the GPM satellite pass. Heights are based on data observed by GPM's radar (DPR Ku Band) blended with estimates from geostationary satellite cloud top temperatures.
Images and caption by Hal Pierce (SSAI/NASA GSFC)