GPM Sees Hurricane Lane Threatening Hawaiian Islands With Heavy Rainfall
GPM Sees Hurricane Lane Threatening Hawaiian Islands With Heavy Rainfall
The GPM core observatory satellite flew over hurricane LANE on August 21, 2018 at 7:48 PM PST (August 22, 2018 at 0548 UTC). At that time LANE was located about 316 nautical miles (585.2 km) from Hilo, Hawaii. Hurricane LANE is one of the strongest tropical cyclones to move into the Hawaiian Islands. At the time of this GPM pass LANE was a category five on the Saffir-Simpson hurricane wind scale with winds of about 140 kts (161 mph). This analysis shows precipitation derived from data collected by the GPM satellite's Microwave Imager (GMI) and Dual-Frequency Precipitation Radar (DPR) instruments. GPM's GMI showed that very heavy rain was occurring with powerful storms located in hurricane LANE's well defined eye wall. GMI revealed that moderate to heavy rainfall was also covering a large area extending outward from LANE's eye. GPM's radar (DPR Ku Band) swath (shown in lighter shades) covered an area to the west of hurricane LANE.
This 3-D image shows the use of GPM satellite's radar data (DPR Ku Band) in conjunction with GOES-WEST Infrared data to estimate the heights of storms within hurricane LANE.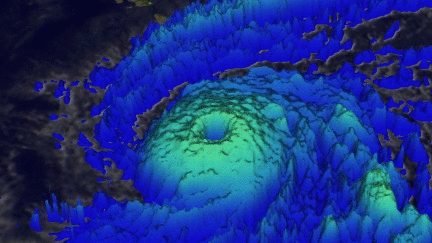 Estimated storm top heights were used in this animation to show a simulated 3-D flyby above hurricane LANE.
The Central Pacific Hurricane Center (CPHC) predicts that over the next several days hurricane LANE will move northwestward into the Hawaiian Islands. The CPHC forecasts that, " ... the current forecast track will bring local impacts of damaging winds and life threatening flooding rain across the state from Wednesday through Saturday".
Images and caption by Hal Pierce (SSAI/NASA GSFC)
Interactive visualization by Matt Lammers (KBRwyle / NASA GSFC)