IMERG Measures Flooding Rainfall from "Plum Rains" in Japan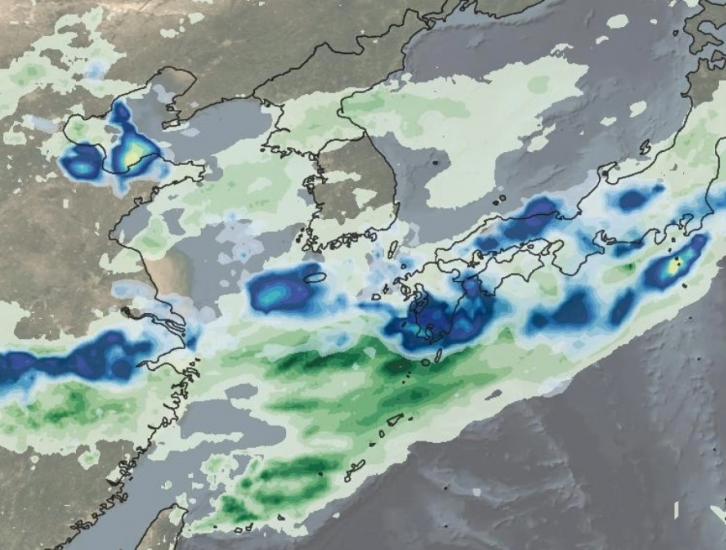 IMERG Measures Flooding Rainfall from "Plum Rains" in Japan
Tuesday, July 7, 2020
This animation shows NASA IMERG rain rates (blue shading) and accumulations (green shading) near Kyushu island, in the southwest of Japan from June 29 - July 5, 2020. Devastating floods and landslides swept through parts of Kyushu on July 4, 2020, resulting in over 40 deaths and orders for hundreds of thousands of people to evacuate their homes according to media reports.
Download video (right-click -> Save As)
The rains that triggered the flooding occurred in the context of the Meiyu-Baiu rainy season, which arrives in east Asia every year from June to mid-July. "Meiyu" and "Baiu" are the Chinese and Japanese words for "plum rains", so called because the rains usually arrive around the time that plum trees ripen. The east-west rain bands that can be seen in the animation are characteristic of the Meiyu-Baiu season. Climate scientists have determined that these rain bands are forced by a combination of warm air from the Tibetan Plateau that travels along a jet of air running eastward, as well as moist tropical air from the southwest.
While the Meiyu-Baiu rains had been active in southern Japan in the days leading up to the recent flooding, the period beginning with July 3, 2020 saw particularly intense periodic rain pulses with rates exceeding 25 mm/hr (1 inch/hr) in the areas around Kyushu. Accumulations increased rapidly from July 3—July 5, to over 40 cm (~16 inches) over the entire southern half of the island, with some areas reaching as high as 60 cm (~2 feet). NASA's IMERG algorithm combines data from an international constellation of satellites to show precipitation measurements both over the ocean and over land.