South Africa Hit by Heavy Rains, Flooding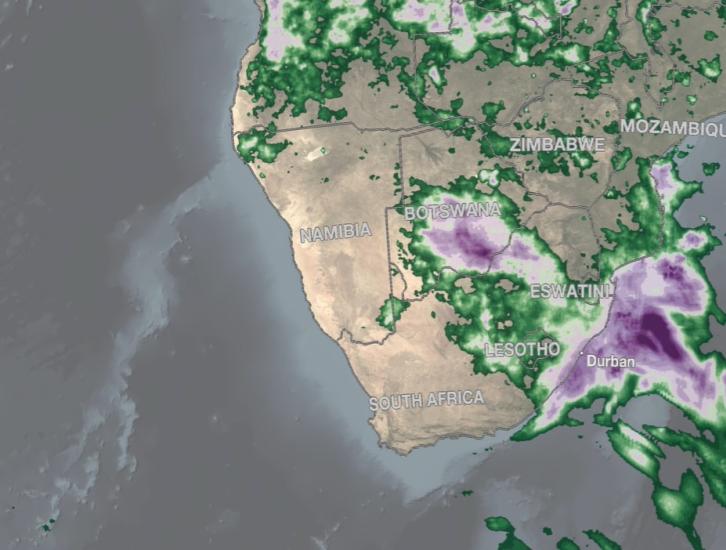 South Africa Hit by Heavy Rains, Flooding
Thursday, April 21, 2022
An upper-level area of low pressure tapped into the warm waters of the South Indian Ocean to bring heavy rains and flooding to parts of South Africa during the second week of April. The event unfolded when an upper-level trough of low pressure embedded within the midlatitude westerlies traversed the southern part of Africa from west to east. As the trough approached the east coast of South Africa, an area of low pressure became detached from the main flow, this "cut off" low then drifted over the warm waters of the Agulhas Current, which channels warmer waters from the tropical Indian Ocean down along the east coast of Africa. The result was the brief appearance of Subtropical Depression Issa along the coast, which served to enhance rainfall along the east coast of South Africa.  Subtropical storms typically have a blend of non-tropical characteristics aloft, such as a cold upper-level area of low pressure, and tropical characteristics lower down as a result of thunderstorm activity that develops over warm ocean waters.  They  require sea surface temperatures (SSTs) of at least ~21° C (70° F) to form. SSTs have been running between 24° C (75.2° F) along the southern half of the east coast of South Africa to over 26° C (78.8° F) farther north along the southern coast of Mozambique.  
Download video (right-click -> "Save As")
The above animation shows surface rainfall estimates from NASA's IMERG satellite precipitation product for the two-week period of April 5 - 18, 2022, over the southern part of Africa and the surrounding ocean areas. The animation shows instantaneous rain rates (in blue and yellow) overlaid on rainfall accumulations (shown in green and purple) and infrared (IR) cloud top data. IMERG shows that heavy rainfall first appears on April 8 over Botswana in the center of the continent where the upper-level trough is triggering widespread thunderstorm development. This activity continues through the 9th before tapering off and shifting eastward to the coast on the 10th.  From the 10th to the 13th, persistent rains resulted in from 6 to over 10 inches (~150 to over 250 mm, shown in light purples) of rain along the southeast coast of Africa.  Locally, on the 12th, daily rainfall totals were reported in excess of 300 mm (~12 inches) in some areas, including Margate, Durban, Sezela and Mount Edgecombe.  So far, over 400 people are reported to have lost their lives amid widespread flood damage in the South African province of KwaZulu-Natal as a result.  
Credits:
Animation by Jason West (NASA GSFC / NASA PPS / Adnet)
Story by Stephen Lang (NASA GSFC / SSAI)