Alex Becomes the Earliest Hurricane to Form in the Atlantic Since 1938
Alex Becomes the Earliest Hurricane to Form in the Atlantic Since 1938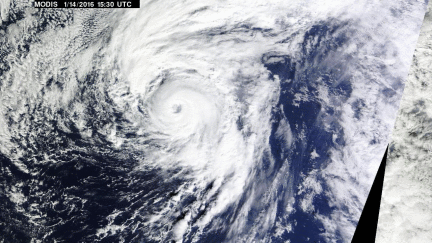 Alex is a rare storm indeed. Alex officially became a hurricane yesterday at 11:00 am Atlantic Standard Time (AST) with maximum sustained winds estimated at 85 mph by the National Hurricane Center (NHC), making it the earliest hurricane to form in the Atlantic since 1938, when the first storm of the season became a hurricane on the 4th of January. As with Alex, that storm too originated from an extratropical low pressure center. The last hurricane to occur in January was Hurricane Alice in 1955, but Alice had already become a hurricane in the year before at the end of December and survived into January. NHC declared Alex to be a subtropical storm on Wednesday afternoon January 13th about 785 miles south- southwest of the Azores. Alex began from an area of low pressure that formed about a week ago along an old frontal boundary that was draped across Cuba. This low gradually moved out into the central Atlantic heading generally westward and began to produce thunderstorm activity as it started to curve northward toward the Azores. Often times, when extratropical storms acquire enhanced convection the instability is due to being over warm waters, but in Alex's case it appears that the instability was due mainly to cold air aloft. At any rate, the heat release from these thunderstorms, which is known as latent heating, is what allowed Alex to eventually transform into a hurricane.
The GPM core observatory satellite flew directly above hurricane Alex on January 15, 2016 at 1151 UTC (6:51 AM EST) collecting data used in this rainfall analysis. Alex was moving into the Azores as a category one hurricane with maximum sustained winds estimated at 70 kts (80.5 mph). GPM's Microwave Imager (GMI) and Dual-Frequency Precipitation Radar (DPR) found that rainfall intensity had decreased significantly since Alex was declared a hurricane on January 14, 2016.
Most of the rainfall measured by GPM's DPR was measured at less than 20 mm (.8 inches) per hour. Also GPM's radar (DPR Ku band) found that storm top heights were fairly low. The maximum storm top heights northwest of Alex's cloudy eye were found to reach altitudes of 9.9 km (6.1 miles).
Hurricane Alex is predicted by the National Hurricane Center (NHC) to become extra-tropical tomorrow but continue to have hurricane force winds as it curves toward the north.
Images produced by Hal Pierce (SSAI/NASA GSFC) and caption by Stephen Lang (SSAI/NASA GSFC)