Cyclone Mora Examined By GPM
Cyclone Mora Examined By GPM
The GPM core observatory satellite passed over cyclone Mora on May 30, 2017 at 1121 UTC. Mora had passed into southeastern Bangladesh less than six hours earlier. Maximum sustained winds within Mora were estimated to be about 55 kts (63 mph) when GPM passed above. Data received by GPM's Microwave Imager (GMI) and Dual-Frequency Precipitation Radar (DPR) instruments revealed the location and intensity of rainfall around the dissipating cyclone. GPM's radar swath, shown in lighter shades, covered the area west of the dissipating cyclone's center. GPM's DPR found that rain was still falling at a rate of over 120mm (4.7 inches) per hour in an intense rain band moving over southeastern Bangladesh.
GPM's Radar (DPR Ku Band) uncovered the 3-D internal structure of precipitation within the intense storms to the west of cyclone Mora's center of circulation. Storm tops in these storms over southeastern Bangladesh were found to reach heights greater than 15.3km (9.5 miles). Even taller storms were scanned by GPM's radar over the open waters of the Bay of Bengal west of Burma (Myanmar). Storm tops there were found to be reaching altitudes of almost 16 km (9.9 miles).

Cyclone Mora is expected to continue dissipating as it moves into rough terrain and strong vertical wind shear.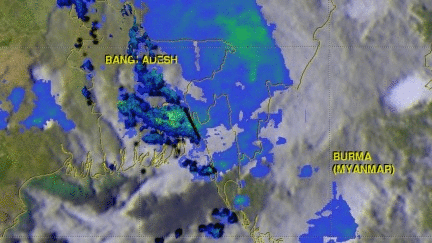 Images and caption by Hal Pierce (SSAI/NASA GSFC)