Deadly Hurricane Otto Strikes Nicaragua and Costa rica
Deadly Hurricane Otto Strikes Nicaragua and Costa rica
Hurricane Otto hit the southern coast of Nicaragua on November 24, 2016 at about 1800 UTC (1 PM EST). Otto had winds of about 95 kts (109 mph). The hurricane crossed into Nicaragua just north of the town of San Juan de Nicaragua that is located at 10.9 degrees North latitude. This makes Otto the southernmost land falling hurricane in Central America on record. Otto dropped flooding rainfall as is weakened and moved through northwestern Coast Rica. Otto was still a well organized tropical storm when it moved into the Eastern Pacific early on November 25, 2016. Otto's maximum sustained winds had only dropped to about 61 kts (70 mph) as it moved off the coast of Costa Rica.

Otto caused the deaths of at least three people in Panama a couple days before it hit Nicaragua. Lives may have been saved in Nicaragua and Costa Rica as thousands of people were evacuated ahead of Otto's arrival but at least four people were still reported killed in Costa Rica.
NASA's Integrated Multi-satellitE Retrievals for GPM (IMERG) were used to estimate the total amount of rain that Otto dropped over Central America. Otto's approximate locations at 0000Z and 1200Z are shown overlaid in white on an IMERG rainfall estimate image. This analysis shows estimated rainfall totals during the period from November 21-25, 2016. This period included formation in the southwestern Caribbean and Otto's path over Nicaragua and Costa Rica into the Eastern Pacific. IMERG estimates show that Otto dropped the greatest amount of rain while it was forming and circling in the Caribbean. IMERG data indicates that over 365 mm (14.4 inches) fell in the Caribbean Sea north of Panama. Otto's heaviest IMERG rainfall over land were along Panama's and Nicaragua's Caribbean coasts where estimates were greater than 228 mm (9 inches).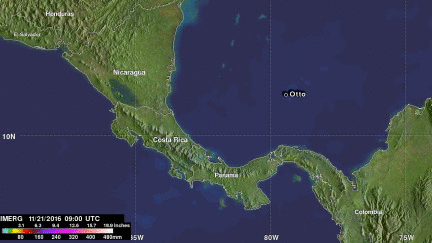 Images and caption by Hal Pierce (SSAI/NASA GSFC)