Wednesday, February 14, 2018
Destructive Tropical Cyclone Gita's Rainfall Measured With IMERG
Tropical cyclone GITA recently battered and drenched first Samoa and then Tonga as it passed close to both island groups. GITA was a tropical storm with winds of about 40 kts (46 mph) when it passed to the south of Samoa but still caused widespread destruction and flooding. The president of the United States approved a disaster declaration for Samoa. The tropical cyclone's winds had increased to about 125 kts (144 mph) when it battered Tonga as the equivalent of a category four hurricane on the Saffir-Simpson hurricane wind scale. Destructive winds were the main cause of destruction but heavy rains also drenched Tonga. Many structures were destroyed including Tonga's historic Parliament House.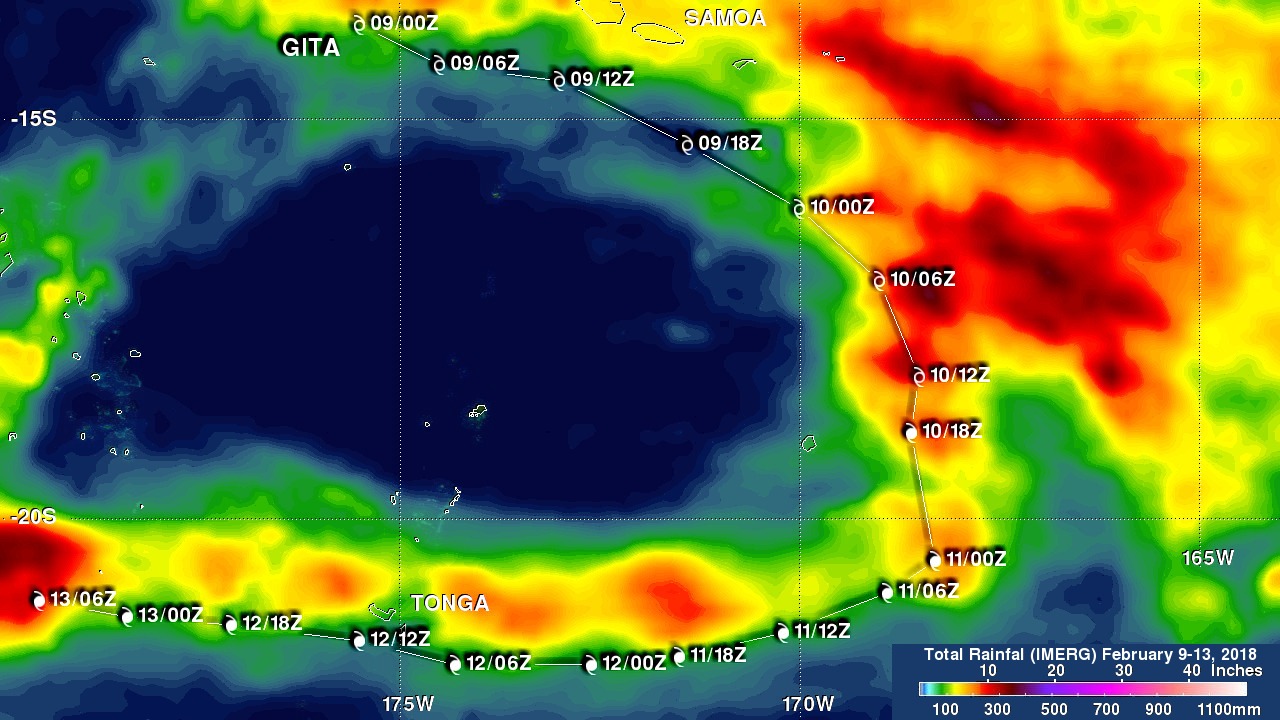 This rainfall accumulation analysis was derived from NASA's Integrated Multi-satellitE Retrievals data (IMERG). IMERG data were used to calculate estimates of precipitation totals from a combination of space-borne passive microwave sensors, including the GMI microwave sensor on the GPM satellite, and geostationary IR (infrared) data. IMERG data benefits from algorithms developed by NASA's Precipitation Measurement Missions (PMM) science team that supports GPM's Missions. This image shows IMERG rainfall accumulation estimates along GITA's track during the period from February 9-13, 2018 when the tropical cyclone was moving over the southern Pacific Ocean area east of the international date line. This IMERG rainfall analysis indicates that tropical cyclone GITA frequently produced rainfall totals greater than 200 mm (7.9 inches) along it's track. In some locations IMERG indicated that rainfall totals were close to 400 mm (15.7 inches).

Today tropical cyclone GITA is traveling over the open waters of the South Pacific Ocean east of New Caledonia. GITA was still a powerful tropical cyclone with winds of about 115 kts (132 mph). The Joint Typhoon Warning Center (JTWC) predicts that GITA will weaken and re-curve toward the southeast in the next few days. This will put GITA on a course to affect the New Zealand area as a much weaker storm in about five days. The remnants of another tropical cyclone called FEHI already caused flooding and destruction in New Zealand in early February.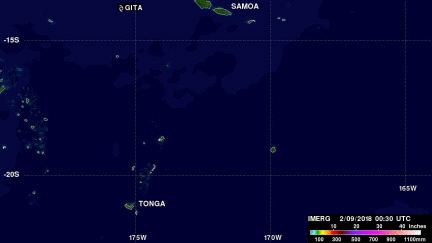 Images and caption by Hal Pierce (SSAI/NASA GSFC)