Developing Severe Weather in the U.S. Midwest Examined By GPM
Developing Severe Weather in the U.S. Midwest Examined By GPM
Until yesterday tornado alley was experiencing a drought of spring tornadoes. The eighteen tornadoes reported in the area yesterday may be a sign of things to come. Moisture laden air from the Gulf Of Mexico is having a more normal interaction with dry air flowing from the desert south-western states (dry line). Wind speed and wind direction change (shear) with height results in thunderstorms that spawn rotation and tornadoes.
The GPM core observatory satellite passed over tornado alley in the early morning of May 1, 2018 at 6:28 AM CDT (11:38 UTC). Tornadoes were not observed until the afternoon but storms were already shown firing up from Kansas to Minnesota. The GPM's satellite's Microwave Imager (GMI) and Dual Frequency Precipitation Radar (DPR) instruments scanned this stormy area and provided instantaneous measurements of precipitation intensity. GPM's radar (DPR Ku Band) found that a few storms in Kansas were dropping rain at a rate of over 1.4 inches (35.6 mm) per hour.
GPM's 3-D radar (DPR Ku Band) data were used in this view, looking toward the northeast, to show the 3-D structure of precipitation within these early morning storms. DPR cross-section scans showed that a few storm tops in northeastern Kansas were already reaching heights above 8.6 mile (13.9 km). A color enhanced vertical slice reveals that downpours over southwestern Iowa were returning strong radar reflectivity values exceeding 53.5 dBZ to the satellite.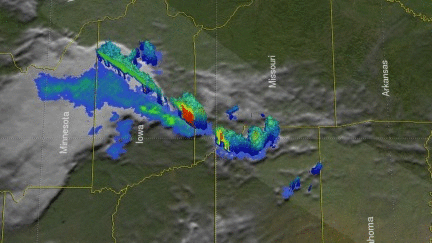 Images and caption by Hal Pierce (SSAI/NASA GSFC)