Extreme U.S. Rainfall Analyzed With IMERG Data
Extreme U.S. Rainfall Analyzed With IMERG Data
Tornadoes have accompanied severe weather over the United States almost daily during the past week. Severe storms spawned tornadoes from Texas and Oklahoma eastward through Mississippi. Upper Midwest states such Illinois, Indiana and Kentucky were also visited by tornadoes. Extreme rainfall caused deadly flooding in Missouri. More than a dozen people in the Midwest and South have been reported killed by tornadoes or flooding. The same weather system is spreading severe storms through East and Northeastern states today.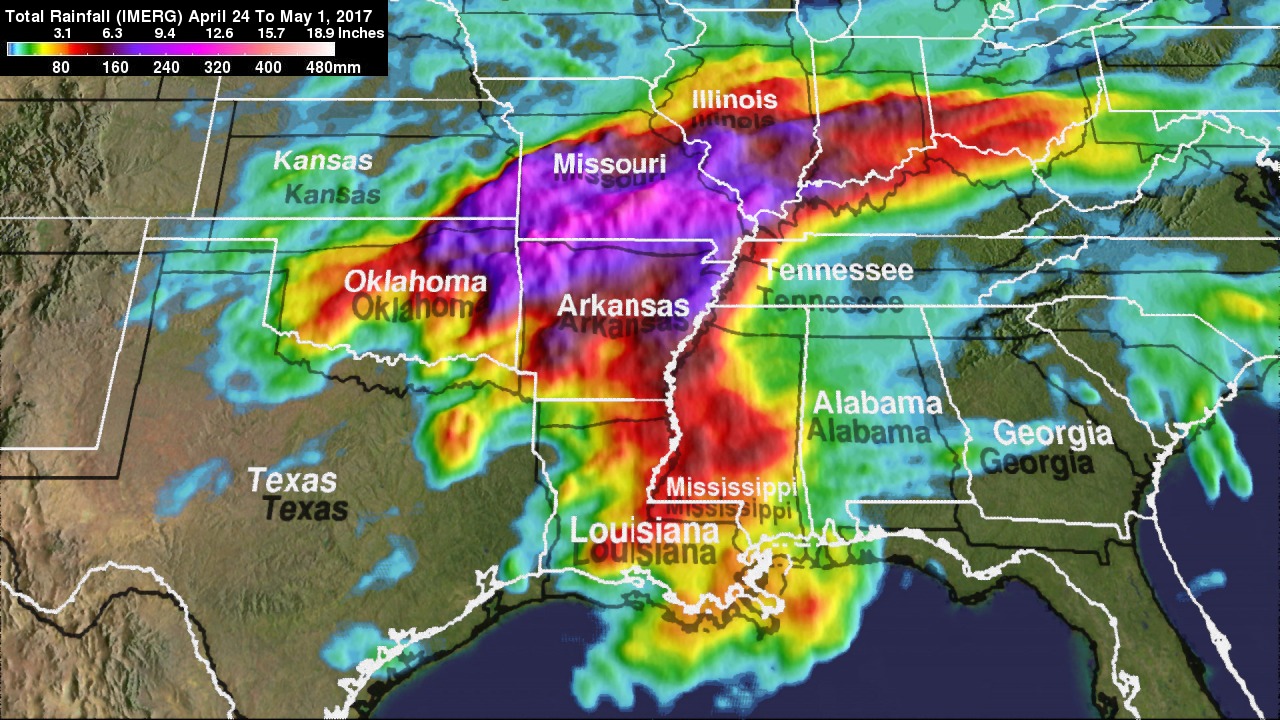 NASA's Integrated Multi-satelliE Retrievals for GPM (IMERG) data were used in an analysis of total precipitation that fell over the eastern United States during the past week. Real-time IMERG data collected from April 24 to May 1, 2017 were shown in this analysis. A period near the beginning of this analysis also includes the flooding rainfall that hit the Carolinas last week. Over eight inches of rain led to the worst flooding in the Carolinas since hurricane Matthew hit the area in 2016.
Rainfall totals of over 3 inches (76 mm) are shown in states from Oklahoma eastward and southeastward. IMERG data indicates that during the past week the heaviest rainfall fell over Missouri. Over 12 inches (304.8 mm) were responsible for flooding in that state.
Images and caption by Hal Pierce (SSAI/NASA GSFC)