Forming Tropical Storm Don's Rain Checked By GPM
Forming Tropical Storm Don's Rain Checked By GPM
On Monday July 17, 2017 at 5:00 PM EDT a tropical disturbance in the Atlantic Ocean was upgraded to tropical storm Don, the fourth Atlantic Tropical storm of 2017. The GPM core observatory satellite flew above the forming tropical storm much earlier in the same day at 3:17 AM EDT (0717 UTC). GPM's Microwave Imager (GMI) and Dual-Frequency Precipitation Radar (DPR) instruments collected data that were used to evaluate precipitation within the forming tropical cyclone. GPM's Radar data swath (shown in lighter shades) covered an area to the west of the greatest amount of rainfall. GPM's radar (DPR Ku band) found rain falling at a rate of over 4.4 inches (112 mm) in the area of heaviest rainfall.
GPM's Radar (DPR Ku band) data showed the heights of some storm tops and the 3-D structure of rainfall near forming tropical storm Don. A few of the powerful convective storms around the low were found by GPM's radar to reach heights above 7.4 miles (12 km).
Today (July 18, 2017) tropical storm Don has weakened and may not have a closed circulation. The National Hurricane Center (NHC) had indicated the westerly shear and dry mid-level air continue to weaken Don. The tropical cyclone is predicted to continue moving westward and dissipate as it moves through Windward Islands and the eastern Caribbean.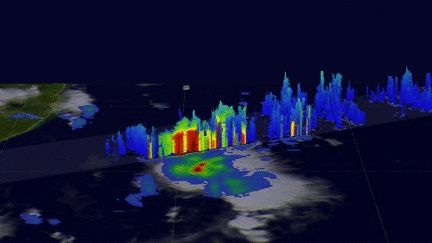 Images and caption by Hal Pierce (SSAI/NASA GSFC)