GPM Data Used to Evaluate Hawaii's Flooding Rainfall
GPM Data Used to Evaluate Hawaii's Flooding Rainfall
A low pressure trough moving slowly westward through the northwestern Hawaiian Islands caused destructive flooding and mudslides over the past weekend. The trough disrupted the normal northeast trade winds flow north of Oahu on April 12, 2018. This caused extremely heavy rainfall as the trough deepened and moved very slowly over Kauai during the weekend. The 28.1 inches (713 mm) of rain reported in Hanalei within a 24 hour period was close to a record for the small town on Kauai's northern coast. Almost 32.4 inches (822 mm) of rain was reported during the same period over Wainiha, Kauai. Flooding and mudslides over Kauai's North Shore led to numerous people being rescued and evacuated. Hawaii's governor issued an emergency proclamation for Kauai County on Sunday April 15, 2018.
The GPM core observatory satellite flew over Kauai as storms were moving through on April 14, 2018 at 10:01 AM HST (2001 UTC). The satellite's Microwave Imager (GMI) and Dual Frequency Precipitation Radar (DPR) data revealed the locations of heavy downpours that were moving through the area. GPM's radar (DPR Ku Band) indicated that extremely intense showers moving northeast of Kauai were dropping rain at a rate of over 192 mm (7.6 inches) per hour. GPM's radar also found that a few of these storms were reaching altitudes higher than 7.6 miles (12.3 km).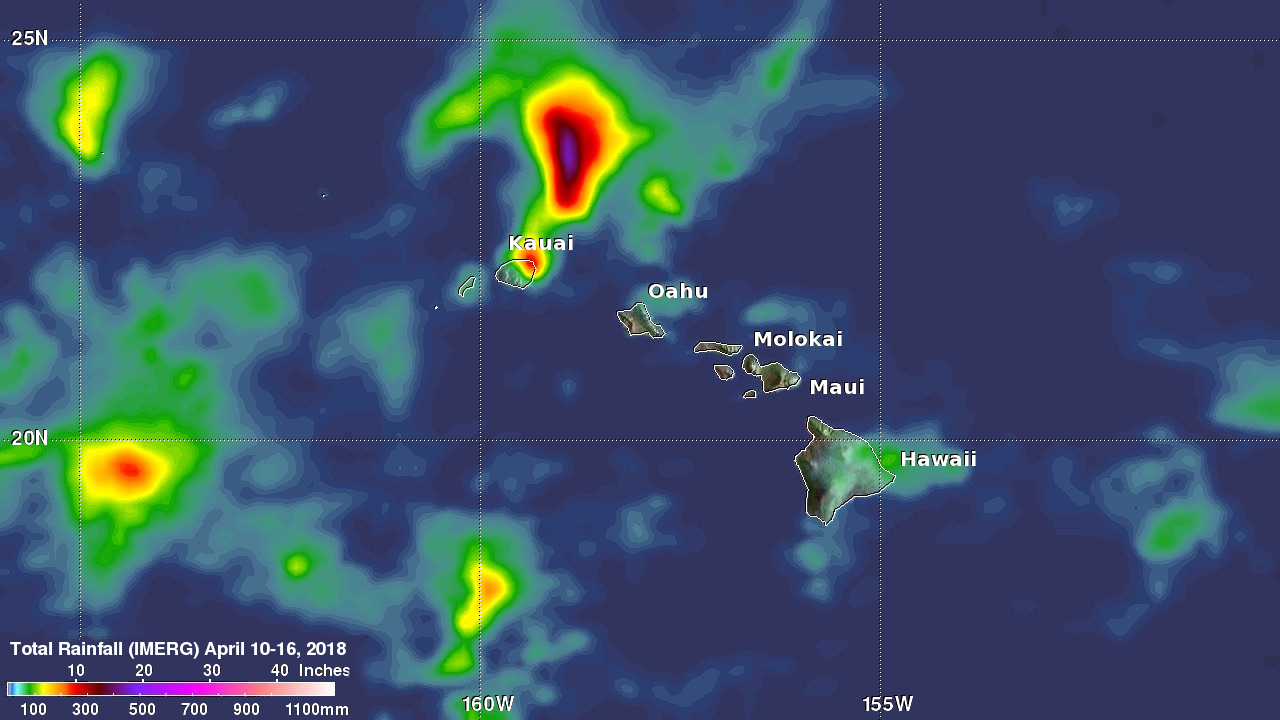 Integrated Multi-satellitE Retrievals for GPM (IMERG) data generated by NASA's Precipitation Processing System were used here to show the pattern of rainfall accumulation as storms moved through the Hawaiian Islands during the period from April 10-16, 2018. This IMERG precipitation analysis reveals the locations of rainfall accumulation resulting from storms that were moving over Kauai. This analysis indicates that the most extreme precipitation resulted from persistent rainfall that extended from northern Kauai northeastward. Average rainfall of over 478 mm (18.8 inches) was indicated by IMERG in parts of that area. Rainfall accumulation estimates greater than 267 mm (10.5 inches) were indicated over a larger portion of the area.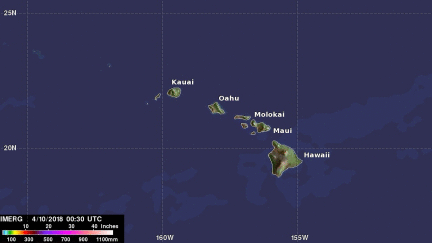 Images and caption by Hal Pierce (SSAI/NASA GSFC)