GPM Examines Forming Subtropical Storm Alberto
GPM Examines Forming Subtropical Storm Alberto
At 10:00 AM CDT today the National Hurricane Center (NHC) upgraded low pressure center (90L) to Subtropical Storm Alberto. Alberto moved over the waters of the northwestern Caribbean Sea. Alberto is expected to bring heavy rainfall and flash flooding to the northeastern Yucatan, western Cuba and Florida over the Memorial Day weekend.
The GPM core observatory satellite passed above the Yucatan Peninsula on May 24, 2018 a 11:19 PM EDT (May 25, 2018 at 0319 UTC). With this pass GPM saw areas of heavy precipitation within the western Caribbean and in the Gulf Of Mexico west of Cuba. GPM's Dual Frequency Precipitation Radar (DPR) instrument scanned precipitation in the area over Guatemala, along the eastern Yucatan coast and western Cuba. Very heavy rainfall was found in storms east of the low's center of circulation along the eastern Yucatan coast but GPM revealed that even more powerful thunderstorms were located east of Belize. Some of these intense storms were dropping rain at a rate of over 7.2 inches (183 mm) per hour.
The GPM satellite's radar (DPR Ku Band) data were used to reveal the 3-D structure of precipitation in a 151.9 mile wide (245 km) swath. DPR showed that storms east of the Yucatan were reaching heights of over 8.9 mile (14.4 km). GPM's radar also revealed that the powerful storms east of Belize were stretching to altitudes of over 10.4 miles (16.8 km).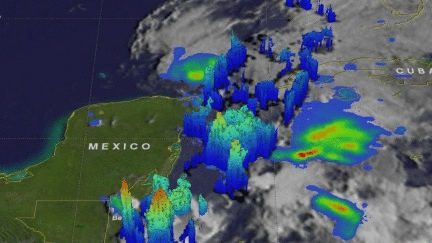 Images and caption by Hal Pierce (SSAI/NASA GSFC)