GPM Examines Tropical Cyclone Dumazile's Flooding Rainfall
GPM Examines Tropical Cyclone Dumazile's Flooding Rainfall
Tropical cyclone DUMAZILE formed east of Madagascar on March 3, 2018. Since then the tropical cyclone has been causing flooding as the tropical cyclone moves parallel to Madagascar's eastern coast. The clockwise rotation of the tropical cyclone has been transporting bands of rain onto Madagascar. Over 210 mm (8.3 inches) of precipitation was reported along the northeastern coast of Madagascar.
The GPM core observatory satellite passed over eastern Madagascar on March 3, 2018 at 1710Z. Tropical cyclone DUMAZILE was located in the Indian Ocean east of northeastern Madagascar. The tropical cyclone was intensifying and was close to typhoon power but no eye had formed. The GPM satellite collected data showing that DUMAZILE contained bands of extremely heavy rainfall. As the satellite flew over head GPM's Microwave Imager (GMI) and Dual Frequency Precipitation Radar (DPR) collected data that showed an intense band of rain hitting Madagascar's eastern coast. GPM's radar (DPR Ku Band) data showed that a powerful storm in this rain band was dropping rain at a rate of over 160 mm (6.3 inches) per hour. Even heavier precipitation was spotted by the satellite in other storms approaching the coast. GPM's DPR data indicated that one of these storms was producing rain at a rate of over 216 mm (8.5 inches) per hour.
This 3-D view shows the precipitation structure in DUMAZILE's rain bands that were hitting eastern Madagascar. GPM's radar measurements of storms within these rain bands showed that tropical cyclone DUMAZILE was generating storms with heights above 13.7 km (8.5 miles).
Tropical cyclone DUMAZILE's maximum sustained winds reached about 105 kts (120.8 mph) on March 2, 2018. The Joint Typhoon Warning Center (JTWC) predicts that the tropical cyclone will weaken while moving south-southeastward to the south of Reunion. Cooler sea surface temperatures and increasing vertical wind shear are then expected to cause DUMAZILE to weaken to tropical storm intensity within five days.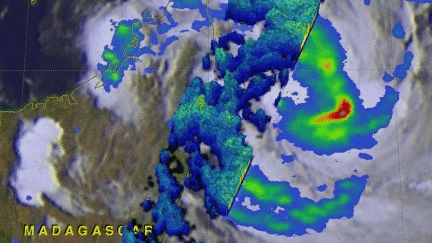 Images and caption by Hal Pierce (SSAI/NASA GSFC)