GPM Examines Tropical Cyclone Gita Over Samoa
Recently formed tropical cyclone GITA was drenching Samo when the GPM core observatory satellite passed above on February 9, 2018 at 1426 UTC. Data collected by GPM's Microwave Imager (GMI) and Dual-Frequency Precipitation Radar (DPR) instruments showed the area and intensity of precipitation associated with the tropical cyclone. The area covered by GPM's radar swath is shown in lighter shades. GITA was producing heavy rainfall over a large area that included the islands. The center of the intensifying tropical cyclone was located just to the south of the islands. Rainfall in that area was measured by GPM's radar falling at a rate of over 64 mm (2.5 inches) per hour. The heaviest rainfall was found by GPM in bands wrapping around the eastern side of GITA. Rain in one of these downpours northeast of Samoa was found falling at a rate of greater than 224 mm (8.8 inches) per hour.
This 3-D view of tropical cyclone GITA's rainfall structure uses GPM's radar (DPR Ku Band). It shows that the tallest storm tops in the tropical cyclone were located in GITA's forming eye wall. Storm tops in a storm located north of GITA's center of circulation were shown by DPR reaching heights above 15 km (9.3 miles).
The Joint Typhoon Warning Center (JTWC) predicts that GITA will intensify tomorrow while moving to the southeast of Samoa. The tropical cyclone's winds are expected to reach hurricane force tomorrow. GITA's track is expected to curve back toward the west and the tropical cyclone is predicted to pass south of Fiji on about February 14, 2018.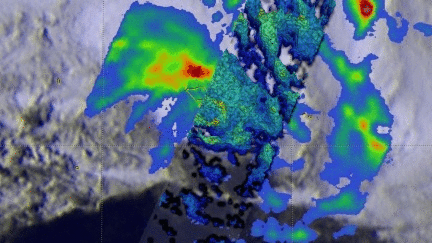 Images and caption by Hal Pierce (SSAI/NASA GSFC)