GPM Examines Tropical Cyclone Gita Remnants Over New Zealand
GPM Examines Tropical Cyclone Gita Remnants Over New Zealand
As predicted, the remnants of tropical cyclone GITA hit New Zealand on Tuesday (local time). GITA had transitioned to an extra-tropical low and was much weaker than when it hit Tonga last week. It still contained strong tropical strong force winds with occasionally heavy rainfall. New Zealand's South Island was the hardest hit. The northern end of of the South Island was in the right front quadrant of the tropical cyclone where the wind speeds around the center of circulation were increased by the low's speed of movement. Torrential rainfall led to flooding and landslides on the South Island of New Zealand where a state of emergency was declared.
The GPM core observatory satellite flew above GITA on February 20, 2017 at 1104 UTC (February 21, 2017 at 12:04 AM NZDT ) as the tropical cyclone was impacting New Zealand. GITA had transitioned to extra-tropical and had maximum sustained winds of about 55 kts (63 mph). A red tropical storm symbol shows the approximate location of the tropical cyclone remnant's low level center of circulation. Data collected by GPM's microwave Imager (GMI) and Dual Frequency Precipitation Radar (DPR) instruments indicated that most of the rain with GITA's remnants was located over New Zealand's South Island. Rainfall was measured by DPR (Ku Band) southeast of the remnant's center falling at a rate of over 22 mm (.9 inches) per hour.
GPM's Radar data (DPR Ku Band) were used in this 3-D view of the rainfall structure within tropical cyclone GITA's remnants. DPR showed that most of the precipitation within GITA's remnants was at fairly low levels with the highest storms reaching altitudes of about 9 km (5.6 miles). GPM's radar echoes from heavy downpours were frequently returning values greater than 44 dBZ to the satellite.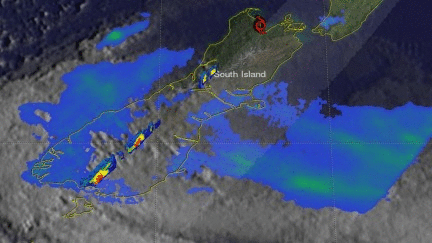 Images and caption by Hal Pierce (SSAI/NASA GSFC)