GPM Measures Extreme Rainfall With Typhoons Sarika and Haima
GPM Measures Extreme Rainfall With Typhoons Sarika and Haima
Two powerful typhoons have hit the Philippines in less than a week. The first was Typhoon Sarika (known as Karen in the Philippines) that formed east of the Philippines on October 12, 2016. Sarika intensified and had peak sustained winds of 115 kts (132 mph). This wind speed made it the equivalent of a category four on the Saffir-Simpson hurricane wind scale. Sarika made landfall in the Philippines on Sunday in the northern province of Aurora on the island of Luzon. Three people were killed as Sarika pounded the Philippines with heavy winds and flooding rainfall. After hitting the Philippines typhoon Sarika traveled over the South China Sea and impacted China's Hainan island, northern Vietnam and southern China.
Typhoon Sarika was followed in the Philippines late Wednesday by typhoon Haima (locally known as Lawin). Haima formed south of Guam on October 14, 2016. Typhoon Haima intensified to Category 5 (super typhoon) strength with winds of over 140 kts (161 mph) as it moved into the Philippine Sea. Haima weakened somewhat and it's maximum sustained winds dropped to about 120kt (138 mph) before making landfall in the northeastern Philippines. Flooding, mudslides, power outages and more than 7 deaths were caused by Haima.
The GPM core observatory satellite passed above typhoon Haima on October 20, 2016. A weakened typhoon Haima moved into the South China Sea with winds decreasing to about 95 kts (109 mph). Rain was measured by GPM's Dual-Frequency Precipitation Radar (DPR) falling at a rate of over 218 mm (8.6 inches) per hour in intense storms in the southern side of the typhoon's large eye.
The northern Philippines is located in an area of the western Pacific known as typhoon alley. It has been estimated that over 20% of the rainfall in the northern Philippines comes from tropical cyclones that travel through that area. An area of the Philippine Sea northeast of the Philippines has been estimated to have the highest percentage (30%) of rainfall from tropical cyclones in the northwestern Pacific Ocean.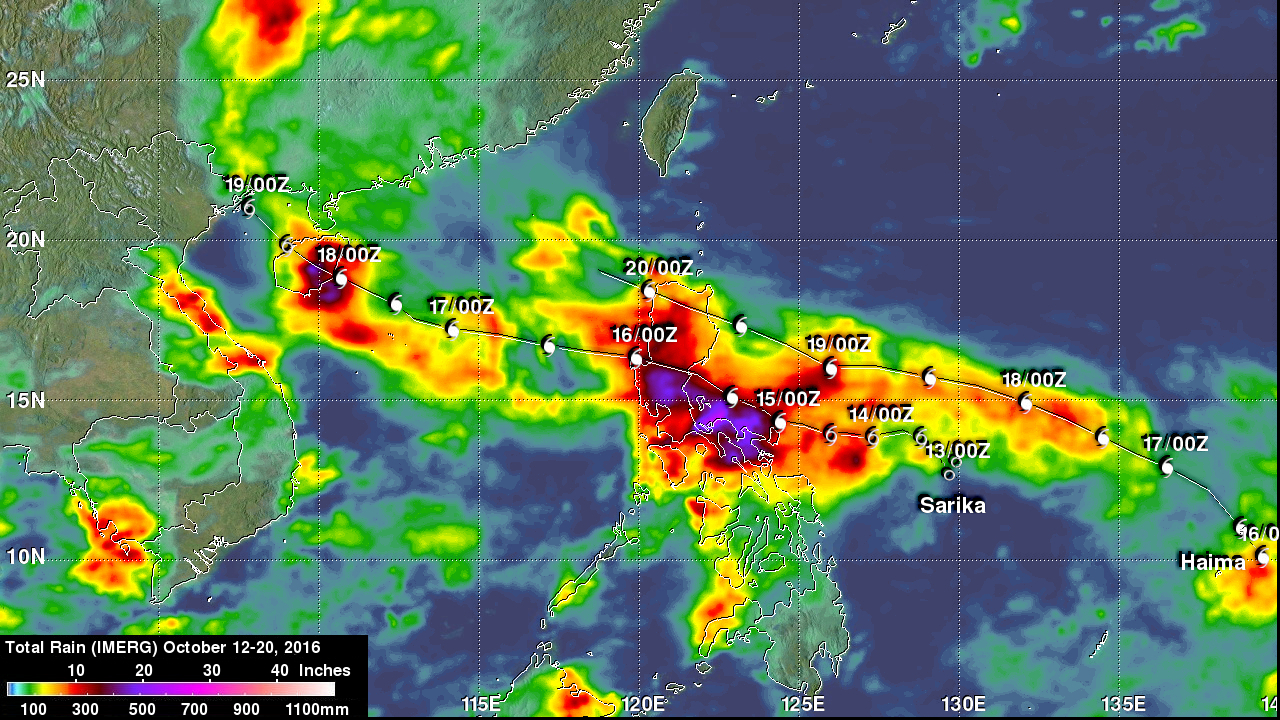 NASA's Integrated Multi-satellitE Retrievals for GPM (IMERG) were used to estimate the extraordinary amount of rain brought by these typhoons to the Philippines during the period from October 12 - 20, 2016. IMERG data indicates that over 500 mm ( 19.7 inches) of rain fell over central Luzon during this period. Sarika and Haima's locations are shown in white on this rainfall analysis. Estimates of real-time IMERG rainfall totals have been adjusted to reflect observed values in similar extreme events.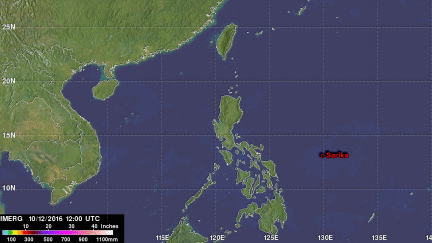 Images and caption by Hal Pierce (SSAI/NASA GSFC)