GPM Observes Another Typhoon That May Threaten Japan
GPM Observes Another Typhoon That May Threaten Japan
The GPM core observatory satellite passed above recently formed tropical storm Saola on October 24, 2017 at 0210 UTC. Tropical storm Saola was located west of Guam and was moving toward the northwest. Very heavy rainfall was measured by GPM's Microwave Imager (GMI) and Dual-Frequency Precipitation Radar (DPR) instruments in powerful convective storms to the southwest of Saola's center. GPM's radar (DPR Ku band) found that some storms in this cluster were dropping rain at a rate of greater than 252 mm (9.92 inches) per hour.
This 3-D view of the powerful storms southwest of Paola's center of circulation was constructed using data collected by GPM's radar (DPR Ku band). These scans by GPM's DPR found that storm tops in a few of these convective storms were reaching heights above 17.5 km (~10.5 miles).

The Joint Typhoon Warning Center (JTWC) predicts that Saola will follow a track similar to deadly typhoon Lan that recently drenched and battered Japan. The JTWC predicts that Saola will not be as powerful as super typhoon Lan. Saola is predicted to attain peak maximum sustained winds of about 80 kts (92 mph) as it approaches southern Japan in about five days. This would make Saola the equivalent of a strong category one hurricane on the Saffir-Simpson hurricane wind scale.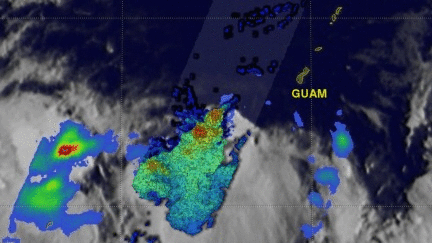 Images and caption by Hal Pierce (SSAI/NASA GSFC)