GPM Satellite Probes Storms In The Western Gulf Of Mexico
A mid-level and surface trough over southern Texas is producing heavy rainfall. Heavy rainfall is expected to continue in the area through Wednesday evening. On June 19, 2018 at 3:37 PM CDT ( 2037 UTC) the GPM core observatory satellite passed over the western Gulf Of Mexico. This GPM pass revealed extreme rainfall that was being produced by a tropical disturbance in the northwestern Gulf Of Mexico. GPM's Microwave Imager (GMI) and Dual Frequency Precipitation Radar (DPR) instruments probed powerful storms that were dropping rain at a rate of 3.5 inches (88 mm) per hour.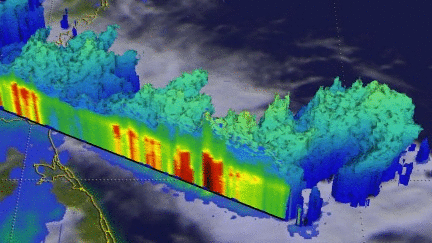 The GPM satellite's radar (DPR Ku Band) collected data that were used here to show 3-D cross-sections of precipitation within storms located in the Gulf Of Mexico east of Texas. These DPR probes revealed that some of these powerful storms were reaching altitudes above 7.75 miles (12.5 km). A few downpours were returning radar reflectivity values greater than 58 dBZ to the GPM satellite.
This animation shows multiple 3-D slices by GPM's radar through powerful storms off the Texas coast. Radar reflectivity values in these slices are color enhanced. The lowest rain rates are blue and the most intense rain is shown in dark red. Algorithms developed by NASA's Precipitation Measurement Missions (PMM) science team are used to process the GPM satellite's radar data.
Images and caption by Hal Pierce (SSAI/NASA GSFC)