GPM Satellite Probes Tropical Cyclone Iris Near Australian Coast
GPM Satellite Probes Tropical Cyclone Iris Near Australian Coast
IRIS has taken a long, fluctuating and serpentine trek since the tropical cyclone formed in the Coral Sea northeast of Australia on March 24. For a while IRIS weakened and was downgraded to a tropical low. The tropical low moved toward the northeastern coast of Australia and was upgraded again to tropical cyclone IRIS on April 2. The tropical cyclone has then moved generally southeastward parallel to the Australian coast.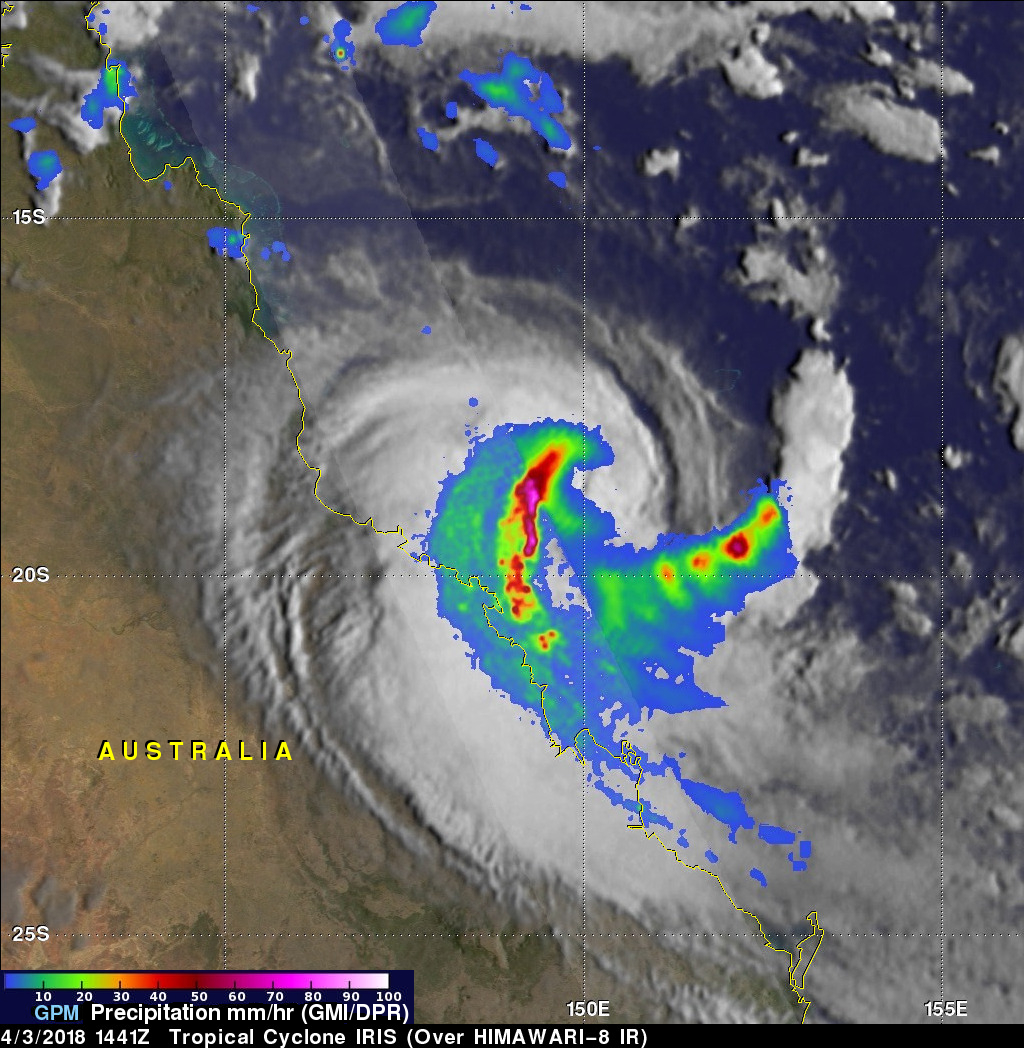 This analysis from data collected by Microwave Imager (GMI) and Dual Frequency Precipitation Radar (DPR) instruments shows that extremely heavy rain was falling west of IRIS' center of circulation. The GPM core observatory satellite flew over tropical cyclone IRIS on April 3, 2018 at 1441 UTC (April 4 at 00:41 AEST). GPM's GMI and DPR provided excellent coverage of the tropical cyclone. GPM's radar probed convective storms with heavy precipitation as it scanned IRIS' western side. GPM's radar indicated that the powerful convective storms in that area were dropping rain at greater than 248 mm (9.8 inches) per hour. GPM's GMI showed that a feeder band into the southeastern side of the tropical cyclone was also producing very heavy rainfall.
The GPM core observatory satellite's radar data (DPR Ku Band) were used here to show the 3-D structure of precipitation within the powerful convective storms west of IRIS' center of circulation. DPR revealed that many storm tops in that part of the tropical cyclone were reaching heights above 13 km (8.1 miles). A 3-D vertical slice through the eastern side of DPR's swath provided evidence that intense showers in that area were returning strong radar reflectivity values of greater than 55 dBZ to the satellite.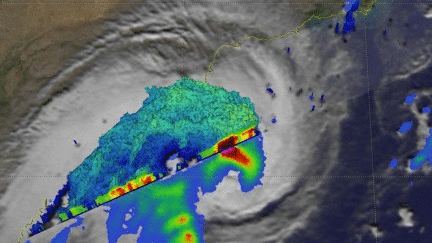 Images and caption by Hal Pierce (SSAI/NASA GSFC)