GPM Satellite Scans Powerful Tropical Cyclone Hola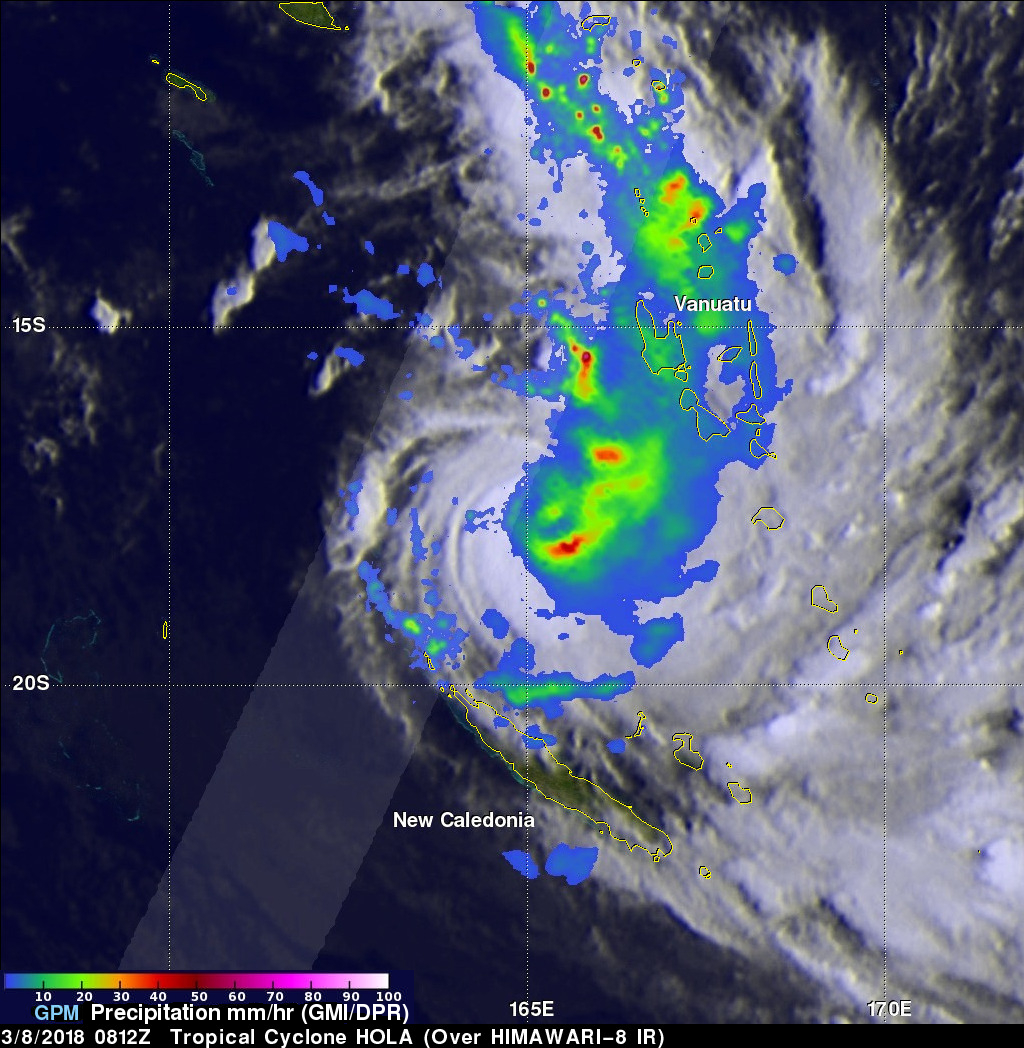 The GPM core observatory satellite had a fairly good look at powerful tropical cyclone HOLA on March 8, 2018 at 0812 UTC. HOLA was located northeast of New Caledonia with maximum sustained winds of about 95 kts (~ 105 mph). The rainfall in this image was derived from data received by GPM's Microwave Imager (GMI) and Dual Frequency Precipitation Radar (DPR) instruments. GPM's GMI provided the best coverage of the tropical cyclone. GMI data indicated that storms within HOLA were dropping rain at a rate of greater than 49 mm (1.9 inches) per hour in the southeast quadrant of the tropical cyclone. GPM's DPR swath (shown in brighter shades) scanned an area west of the heaviest concentration of rainfall around the center of tropical cyclone HOLA. GPM's radar (DPR Ku band) found that some convective storms in feeder bands north of the tropical cyclone's weak eye were producing rain at a rate of over 127 mm (5 inches) per hour.

The Joint Typhoon Warning Center (JTWC) expects the subtropical ridge to cause tropical cyclone HOLA to recurve toward the southeast avoiding a direct impact with New Caledonia. Tropical cyclone HOLA is expected to increase in power initially and reach peak intensity of 110 kts (~ 127 mph) while located to the northeast of New Caledonia. HOLA is expected to weaken and gradually transition to an extratropical low in a few days while moving toward northeastern New Zealand.
Images and caption by Hal Pierce (SSAI/NASA GSFC)