GPM Satellite Sees Forming Atlantic Tropical Depression
GPM Satellite Sees Forming Atlantic Tropical Depression
Tropical Depression Six (TD06L) formed in the Eastern Atlantic Ocean southwest of the Cape Verde Islands late Tuesday evening. TD06L has become better organized today. The National Hurricane Center (NHC) predicts that the tropical depression will intensify and become tropical storm Fiona later today. The tropical storm is predicted to become slightly more powerful while moving toward the northwest over the open waters of the central Atlantic.
The GPM core observatory satellite collected data when TD06L was forming on August 16, 2016 at 2031 UTC. GPM data showed that the forming tropical cyclone was getting organized. A strong band of rainfall south of the center of the low's circulation was shown with data from GPM's Microwave Imager (GMI) and Dual-Frequency Precipitation Radar (DPR) instruments. DPR measurements found that an intense shower in this band was dropping rain at a rate of over 155 mm (6.1 inches) per hour.
GPM's radar data (DPR Ku Band) were used in this image to show a 3-D slice through the forming tropical depression. Intensity and heights of precipitation in some tall storms were shown to reach heights of over 15 km (9.3 miles).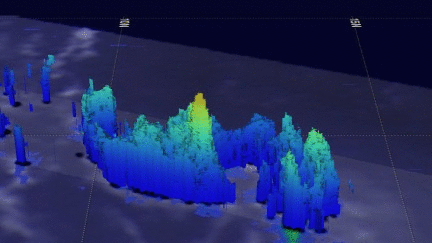 Images and caption by Hal Pierce (SSAI/NASA GSFC)