GPM Satellite Views Tropical Cyclone Flamboyan's Rainfall
Tropical cyclone FLAMBOYAN formed in the middle of the South Indian Ocean well to the west of Australia on April 28, 2018. Today FLAMBOYAN's wind speeds have increased to about 70 kts (81 mph) as the tropical cyclone curved toward the south-southwest around the subtropical ridge. The Joint Typhoon Warning center (JTWC) predicts that FLAMBOYAN will start weakening soon as it moves even farther to the south and encounters increasing vertical wind shear and colder ocean temperatures.
The GPM core observatory satellite had a good view of the rainfall in tropical cyclone FLAMBOYAN when it flew over on April 29, 2018 at 2226 UTC. The satellite's Microwave Imager (GMI) scanned the center of the tropical cyclone and found rain falling there at a rate of over 53 mm (2.1 inches) per hour. The satellite's Dual Frequency Precipitation Radar (DPR) missed FLAMBOYAN's center but showed that only light to moderate rainfall was occurring west of the tropical cyclone's center of circulation.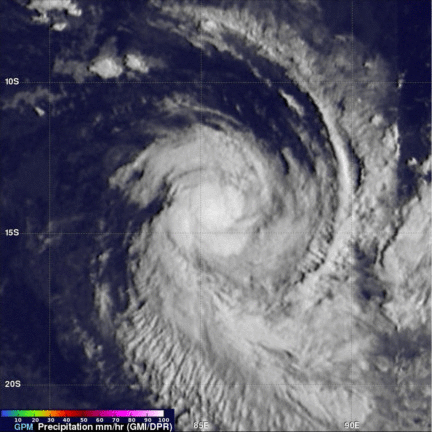 Images and caption by Hal Pierce (SSAI/NASA GSFC)