GPM Sees Franklin Becoming A Hurricane
GPM Sees Franklin Becoming A Hurricane
As expected, tropical storm Franklin intensified and was upgraded to hurricane Franklin in the afternoon of August 9, 2017. Franklin made landfall on the coast of eastern Mexico early this morning as a category 1 hurricane with winds of over 86 mph (75 kts). Heavy rainfall, flash floods and mudslides are expected as Franklin moves inland and weakens. The remnants of Franklin may survive the transit over Mexico's rough terrain and revive after moving into the eastern Pacific Ocean.
The GPM core observatory satellite saw tropical storm Franklin with winds of about 69 mph (60 kts) as it was intensifying in the Bay Of Campeche on August 9, 2017 at 11:20 AM CDT (1620 UTC). Heavy rainfall in Franklin was uncloaked by GPM's Microwave Imager (GMI) and Dual-Frequency Precipitation Radar (DPR) instruments. GPM's GMI data showed that rain was falling at a rate of over 3.1 inches (79 mm) per hour in powerful storms southeast of Franklin's center of circulation. DPR data revealed that intense feeder bands on the western side of the tropical storm were dropping rain at a rate of greater than 2.8 inches (71 mm) per hour.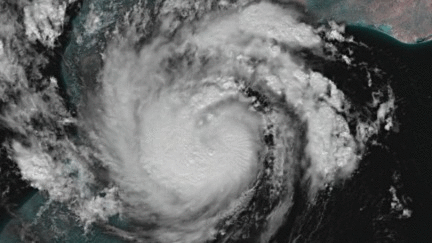 A 3-D cross section was developed using GPM's radar (DPR Ku Band). GPM's DPR scans of the feeder bands on the western side of tropical storm Franklin revealed that powerful storms there were reaching altitudes above 9.5 miles (15.4 km).
Images and caption by Hal Pierce (SSAI/NASA GSFC)
Interactive visualization by Matt Lammers (KBRwyle / NASA GSFC)