GPM Sees Hurricane Max Approaching Mexico's Coast
GPM Sees Hurricane Max Approaching Mexico's Coast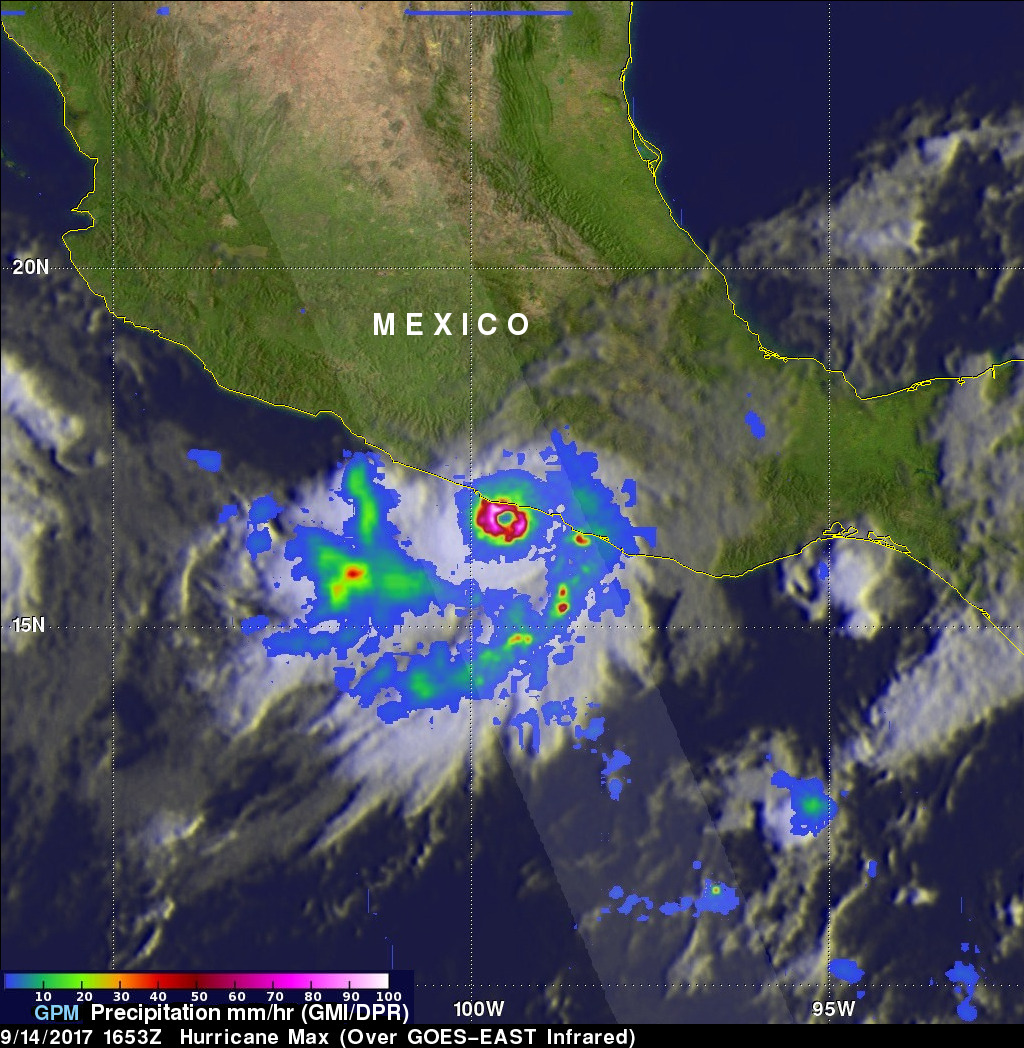 Hurricane Max made landfall on Mexico's southern Pacific coast yesterday afternoon. Max was a small hurricane with maximum sustained winds of about 86 mph (75 kts). By this morning wind speeds in the dissipating storm had decreased to about 29 mph (25 kts). Max's dissipating remnants are still expected to produce heavy rain as they continue moving eastward today.
The GPM core observatory satellite passed above Hurricane Max on September 14, 2017 at 11:35 AM CDT (1653 UTC) as Max was close to making landfall east of Acapulco, Mexico. Although Max was a small hurricane the GPM satellite's radar (DPR Ku Band) found very heavy rainfall in the hurricane's well defined eye wall. DPR's scans found that the powerful storms in Max's eye wall were dropping precipitation at a rate of over 3.9 inches (100 mm) per hour.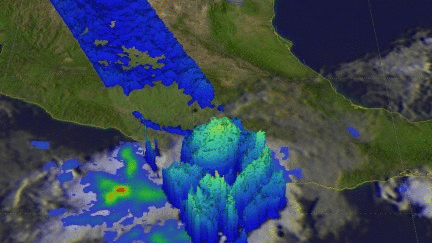 This simulated 3-D view of Max's precipitation structure was developed using GPM's radar (DPR Ku Band). This 3-D cross-section by DPR shows thunderstorm tops in the hurricane's eye wall reaching altitudes above 7.8 miles (12.6 km). GPM's radar revealed that tallest storms, reaching heights above 8.7 miles (14 km), were located in an intense band of precipitation spiraling in around Max's southern side.
Images and caption by Hal Pierce (SSAI/NASA GSFC)