GPM Sees Increasingly Organized Tropical Storm Hermine
GPM Sees Increasingly Organized Tropical Storm Hermine
Tropical Depression Nine was upgraded to Tropical Storm Hermine on Wednesday August 31, 2016 at 2 PM EDT (1800 UTC). The GPM core observatory satellite passed directly above newly designated tropical storm Hermine on August 31, 2016 at 4:06 PM EDT (20:06 UTC). Rainfall data derived from GPM's Microwave (GMI) and Dual-Frequency Precipitation Radar (DPR) instruments showed that precipitation intensity had increased and moved into western Florida. Rainfall measured by GPM's DPR had increased to a rate of over 9.9 inches (251 mm) per hour in very powerful storms in the Gulf Of Mexico northwest of Cuba. These intense storms were shown by GPM to be located southwest of Hermine's center of circulation.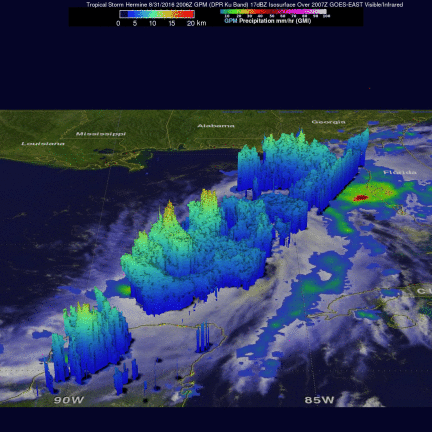 GPM's 3-D measurements of some of these powerful storms showed that many storm tops in the Gulf Of Mexico were reaching heights above 9.9 miles (16 km). GPM measured radar reflectivity values of over 88 dBZ in some of the most powerful storms.
Tropical storm Hermine is expected to intensify resulting in hurricane, flood and surge warnings to be issued for parts of Florida.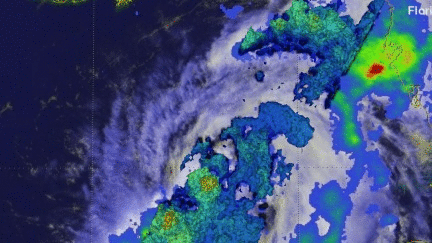 Images and caption by Hal Pierce (SSAI/NASA GSFC)