GPM Sees Intensifying Typhoon Lan Heading Toward Japan
GPM Sees Intensifying Typhoon Lan Heading Toward Japan
Tropical depression twenty five (TD25W) formed in the western Pacific Ocean west of Yap on October 15, 2017. After that the intensifying tropical cyclone moved into the Philippine Sea. Tropical storm Lan recently moved toward the north and was upgraded to typhoon Lan. Maximum sustained wind speeds today (October 19, 2017) were estimated to have reached 75 kts (~86 mph). This wind speed makes it a category one on the Saffir-Simpson hurricane wind scale. Extremely warm ocean waters (30-31 degrees Celsius) along Lan's path are providing fuel for further intensification.
On October 18, 2017 at 1535 UTC the "core" satellite of the Global Precipitation Measurement (GPM) mission passed almost directly above typhoon Lan's eye. GPM's Microwave Imager (GMI) and Dual-Frequency Precipitation Radar (DPR) instruments collected data that were used in this examination of typhoon Lan's rainfall. GPM's DPR (shown in lighter shades) revealed that extremely heavy rainfall was located in the southeastern side of the typhoon's eye wall. Powerful storms there were dropping rain at a rate of greater than 227 mm (8.9 inches) per hour. GPM's GMI additionally showed that typhoon Lan was producing heavy rain over a large area with a large well defined feeder band wrapping into the southwestern side of the typhoon.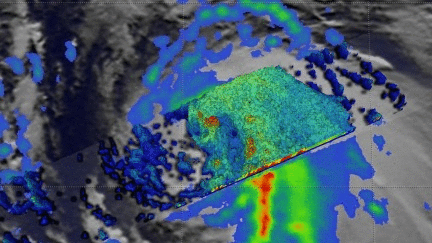 This 3-D cross-section view of typhoon Lan's precipitation (looking toward the southeast) was constructed using data collected by the GPM satellite's radar (DPR Ku Band). Of particular interest are extremely tall thunderstorm towers in the southeastern side of typhoon Lan's eye wall. Some of these very tall towers were measured by GPM's radar (DPR Ku Band) reaching amazing altitudes above 18.6 km (11.5 miles). The heat released by condensation within these tall thunderstorms provided fuel to aid in typhoon Lan's intensification.
The Joint Typhoon Warning Center (JTWC) predicts that typhoon Lan will continue to intensify as it moves toward higher latitudes and is expected to become a powerful typhoon with winds of 110 kts (~127 mph) in a couple days. The JTWC predicts that typhoon Lan will have winds of 100 kts (115 mph) as it approaches the Japanese island of Honshu on about October 23, 2017.
Images and caption by Hal Pierce (SSAI/NASA GSFC)