GPM Sees Keni Following Tropical Cyclone Josie's Track
Another tropical cyclone called KENI has formed in the South Pacific Ocean between Vanuatu and Fiji. The Joint Typhoon Warning Center (JTWC) issued it's first warning for tropical cyclone KENI on April 8, 2018 at 2100Z. Tropical cyclone KENI is following a track similar to tropical cyclone JOSIE that recently caused deadly flooding in Fiji.
The GPM core observatory satellite passed above tropical cyclone KENI on April 9, 2018 at 1109Z. This analysis of rainfall around tropical cyclone KENI was accomplished using data collected by GPM Microwave Imager (GMI) and Dual Frequency Precipitation Radar (DPR) instruments. Those data show that KENI was becoming well organized. GMI revealed that an area of heavy rainfall was located at KENI's center of circulation in the North Fiji Basin between Vanuatu and the Fiji Islands. Two large distinct convective rain bands are shown dropping heavy rainfall as they spiral inward from KENI's eastern side. GPM's radar (DPR Ku Band) found that powerful storms in the eastern of these feeder bands was dropping rain at a rate of greater than 226 mm (8.9 inches) per hour.
GPM radar data (DPR Ku Band) were used here to show the 3-D shape precipitation associated with tropical cyclone KENI. Cloud top heights estimates over an area larger than the GPM swath were produced by blending measurements from GPM's radar (DPR Ku band) with cloud top heights based on the HIMAWARI-8 Meteosat satellite's infrared temperatures satellite's infrared temperatures. Storm top heights were found by DPR to reach altitudes of almost 17 km (10.5 miles) with the powerful storms in intense rain bands wrapping around KENI's eastern side.
Like tropical cyclone JOSIE, tropical cyclone KENI is expected to pass close to the southwest of the largest island in the Republic of Fiji called Viti Levu. Tropical cyclone JOSIE only attained tropical storm intensity. The Joint Typhoon Warning Center (JTWC) predicts that tropical storm KENI will reach intensity of 70 kts (81 mph) when it is closest to Viti Levu. That means that KENI will be the equivalent of a category one hurricane on the Saffir-Simpson hurricane wind scale at that time. With warm sea surface temperatures and low to moderate vertical wind shear tropical cyclone KENI is passing through an area of favorable environment for intensification. Maximum sustained wind speeds in the tropical cyclone are expected to peak at 80 kts (92 mph) after KENI has passed to the the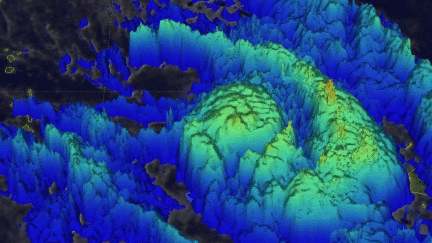 Images and caption by Hal Pierce (SSAI/NASA GSFC)