GPM Sees More Powerful Tropical Cyclone Zena
Tropical cyclone Zena intensified over the open waters between Vanuatu and Fiji. At peak intensity Zena had sustained winds estimated at about 90 kts (104 mph). The GPM core observatory satellite had an excellent view of tropical cyclone Zena on April 6, 2016 at 0933 UTC when tropical cyclone Zena was located southwest of Fiji. Zena had started to weaken but still had maximum sustained wind speeds estimated at 80 kts (92 kts). An analysis of GPM's Microwave Imager (GMI) and Dual-Frequency Precipitation Radar (DPR) data revealed the intensity of some very heavy showers in the tropical cyclone. The most intense rainfall was measured by GPM's radar (DPR) falling the amazing rate of almost 300 mm (11.8 inches) per hour.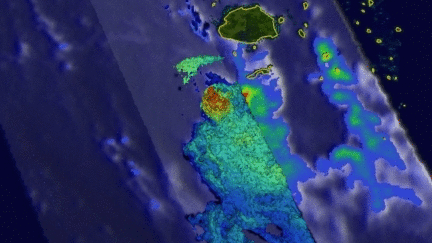 A 3-D cross-section, using radar intensity data from the GPM satellite, showed that some storm tops in these intense thunderstorms were reaching altitudes above 17 km (10.5 miles).
Tropical cyclone Zena has continued to weaken after moving to the southeast of Fiji. The Joint Typhoon Warning Center (JTWC) predicts that, on it's current track, Zena will will pass over Tonga with wind speeds of less than 50 kts (58 mph).
Images and caption by Hal Pierce (SSAI/NASA GSFC)