GPM Sees Possible Tropical Cyclone Developing Near Australia
GPM Sees Possible Tropical Cyclone Developing Near Australia
So far this year no tropical cyclones have developed in the Southwest Indian Ocean. The Joint Typhoon Warning Center (JTWC) recently warned that a low moving westward over northwestern Australia may soon become a tropical cyclone. Warm Indian Ocean waters and low vertical wind shear are providing a good environment for tropical cyclone development.
The GPM satellite flew over northwestern Australia on January 25, 2017 at 2351 UTC. GPM's Microwave Imager (GMI) and Dual-Frequency Precipitation Radar (DPR) measured precipitation within strong convection in the Indian Ocean northwest of the lows center of circulation. The satellite found that some of these bands of convective storms near northwest Australia's coast area were dropping rain at a rate of almost 83 mm (3.3 inches) per hour.
GPM's radar (Ku Band) sliced through powerful convective storms off Australia's coast and found that a few thunderstorm tops were reaching heights above 16 km (9.9 miles).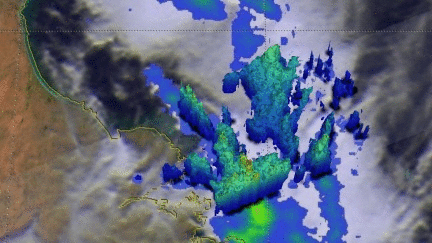 Images and caption by Hal Pierce (SSAI/NASA GSFC)