GPM Sees Super Typhoon Melor Hitting The Philippines
GPM Sees Super Typhoon Melor Hitting The Philippines
Super typhoon Melor (known in the Philippines as Nona) formed east of the Philippines on December 12, 2015. Melor became more powerful and became a typhoon the next day while heading toward the Philippines. The Joint Typhoon Warning Center (JTWC) indicated that Melor was a super typhoon with winds of 115 kts 115 kts (133 mph) just before hitting the Philippines .The GPM core observatory satellite passed above as super typhoon Melor was impacting the Philippines on December 14, 2015 at 1006 UTC. At that time Melor still had maximum sustained winds of about 115 kts (133 mph).
Rainfall derived from data collected by GPM's Microwave Imager (GMI) and Dual-Frequency Precipitation Radar (DPR) instruments are shown overlaid on an enhanced Infrared image from the MTSAT satellite. GPM found that very intense storms in the southeastern side of Melor's eye wall were dropping rain at a rate of over 86 mm (3.4 inches) per hour.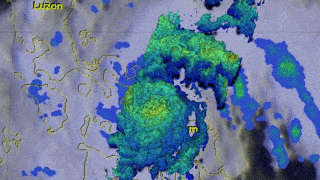 GPM's Radar (DPR Ku Band) were used to examine the 3-D structure of super typhoon Melor's precipitation. Most of the storm top heights around Melor's eye were measured by GPM at heights of around 12.4 km (7.7 miles). Higher storm tops reaching 14.5 km ( 9 miles) were found in a feeder band northeast of Melor's eye.
High winds and flooding are expected to cause extensive damage as Typhoon Melor moves westward over the central Philippines. The JTWC predicts that Melor's winds will gradually decrease but that Melor will still have tropical storm force winds of 50 kts (58 mph) as it moves into the South China Sea tomorrow.
Images and caption by Hal Pierce (SSAI/NASA GSFC)