GPM Sees Tropical Cyclone Vardah (05B) Intensifying
GPM Sees Tropical Cyclone Vardah (05B) Intensifying
The GPM core observatory satellite had another excellent view of tropical cyclone Vardah (05B) in the eastern Bay of Bengal on December 8, 2016 at 0301 UTC. GPM found that Vardah had become better organized since it formed on December 7, 2016. Maximum sustained winds had increased to an estimated 45 kts (~52 mph). GPM's Microwave Imager (GMI) showed that two intense feeder bands were bringing moisture from the Andaman Sea into the northeastern side of the tropical cyclone. GPM's Dual-Frequency Precipitation Radar (DPR) coverage is shown in a slightly lighter shade through the center of the tropical cyclone. DPR's (Ku Band) data revealed that rain was falling at a rate of over 266 mm (10.5 inches) in some of the very strong convective storms moving around the northern side of the tropical cyclone. GPM also showed a slot of dry air moving into Vardah's southern side.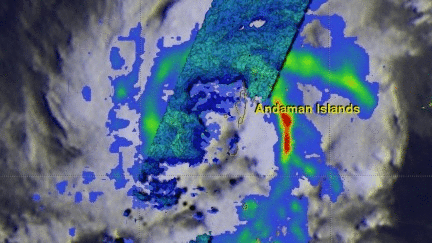 The GPM satellite's radar data (Ku Band) were used to show the 3-D structure of precipitation within tropical cyclone Vardah. Storm top heights were found to reach altitudes of up to 13 km (8 miles) within the area covered by DPR. GPM found that downpours in strong convective storms near Vardah's center of circulation were returning radar reflectivity values of over 82dBZ.
The Joint Typhoon Warning Center (JTWC) predicts that Vardah will intensify and have maximum sustained winds of 70 kts (~81 mph) within a couple days. Lower vertical wind shear is predicted to help Vardah become more powerful but dry air entrainment is expected to sap Vardah's intensity.
GPM is a joint mission between NASA and the Japanese space agency JAXA.
Images and caption by Hal Pierce (SSAI/NASA GSFC)