GPM Views Tropical Storm John
GPM Views Tropical Storm John
The GPM core observatory satellite had an extremely good view of tropical storm John on August 6, 2017 at 1:08 AM MDT (0708 UTC). The satellite passed right over John's center of circulation. GPM's Microwave Imager (GMI) and Dual-Frequency Precipitation Radar (DPR) instruments provided excellent coverage of precipitation associated with tropical storm John. GPM showed that the large tropical cyclone was becoming well organized and had intense rainfall within feeder bands that were spiraling toward John's center. GPM's radar (DPR Ku Band) revealed that a band of powerful storms northeast of John's center were dropping rain at a rate of close to 160 mm (6.3 inches) per hour.
The GPM satellite's radar data (DPR Ku Band) were used to show the 3-D structure of rainfall in tropical storm John. The Dual-Frequency Precipitation Radar (DPR) is one of the main instruments on the GPM Core Observatory satellite. The DPR Ku Band(13.6 GHz) radar is an updated version of the radar that flew on the TRMM satellite from 1997 to 2015. GPM's radar showed that storm tops were tall in a feeder band on JOHN's eastern side but the tallest tower was measured in storms just north of JOHN's center of circulation. GPM's DPR found that the tall storms north of JOHN's center were reaching heights above 13.7 km (8.5 miles).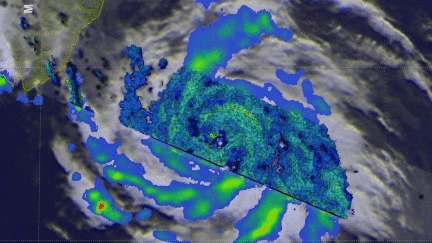 This simulated flyby around the tropical cyclone's center provides a good view of the 3-D structure of tropical storm JOHN's precipitation.
Tropical cyclone formation is occurring at rapid pace in the eastern Pacific. Tropical storm JOHN is located just to the west of tropical storm ILEANA. The two tropical cyclones may interact causing JOHN's speed of movement to be a little slower. The National Hurricane Center (NHC) mentioned the GPM satellite in a recent discussion of tropical storm JOHN. The NHC said, "The GPM pass helped set the initial motion at 300/7 kt, somewhat to the left of the previous estimate". Tropical storm JOHN is in a favorable environment for intensification into a hurricane. The water is warm and wind shear is low. The NHC predicts that JOHN will become a hurricane later today.
Images and caption by Hal Pierce (SSAI/NASA GSFC)