Hurricane Bud's Rainfall Measured with GPM IMERG
Hurricane Bud's Rainfall Measured with GPM IMERG
Beneficial rainfall from hurricane Bud's remnants has spread into the Desert Southwest. This rainfall may be helpful in an area that has been experiencing exceptional drought accompanied by wildfires. Bud's rainfall may also signal the beginning of the summer monsoon over the Desert Southwest.
The image above shows estimates of accumulated rainfall using IMERG (Integrated Multi-satellitE Retrievals for GPM) data generated during the period from June 9-18, 2018. This rainfall occurred during the period when Bud formed southwest of Mexico, intensified into a powerful category four hurricane, dissipated as it moved northward and it's remnants then moved over the Desert Southwest. IMERG estimates indicated that Bud produced the heaviest rainfall over the open waters of the eastern Pacific where over 512 mm (20.2 inches) fell. IMERG estimates indicated that the heaviest rainfall over land occurred in northwestern Mexico with over 200 mm (7.9 inches) indicated.
Another area of heavy rain associated with a tropical disturbance is shown over the western Gulf Of Mexico. This tropical tropical disturbance is expected to bring soaking rain to Texas this week. Tropical moisture with these downpours are expected to ease drought conditions but result in flooding.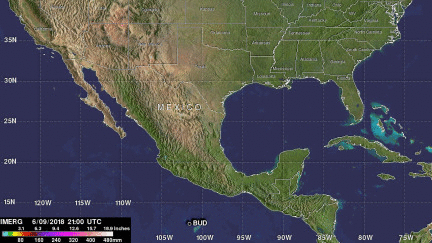 Images and caption by Hal Pierce (SSAI/NASA GSFC)