IMERG Shows Darby's Rainfall Over The Hawaiian Islands
Most of the Hawaiian Islands were spared serious damage from tropical storm Darby. The location of Darby's track through the Hawaiian Islands resulted in the islands of Hawaii and Oahu being the most affected. Flash flooding was common on Oahu due to a reported 177.8 mm (7 inches) of rain drenching the island. Interstate H-1 was flooded in some locations. Lightning damage was reported in Kaneohe on the windward side of Oahu.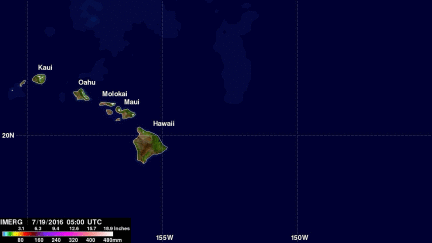 Estimates of rainfall accompanying tropical storm Darby were produced using NASA's Integrated Multi-satellitE Retrievals for GPM (IMERG) data. These IMERG rainfall accumulation totals were calculated for the period from July 19-26, 2016. Darby had weakened from a category one hurricane to a tropical storm before moving into the Central Pacific. IMERG estimates indicate that Darby dropped extremely heavy rainfall at times. The greatest rainfall total estimates during this period were located north of Oahu where 480 mm (18.9 inches) fell.
Images and caption by Hal Pierce (SSAI/NASA GSFC)