India's Deadly Monsoon Rainfall Measured With GPM IMERG
India's Deadly Monsoon Rainfall Measured With GPM IMERG
India's southwest monsoon (summer rainy season) normally occurs between June and September. This year's monsoon has been assessed as average but India's Meteorological Department statistics show that daily mean rainfall for the country has recently been above normal. At least 15 people were killed by floods and landslides in India on Wednesday July 11, 2018. So far this year, close to 200 deaths may have resulted from India's heavy monsoon rainfall.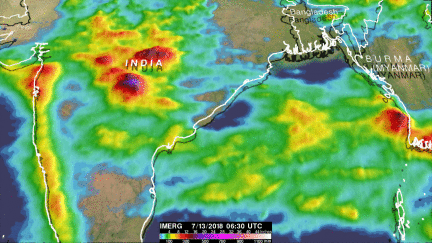 These estimates of rainfall accumulation were constructed using data from NASA's Integrated Multi-satellitE Retrievals for GPM (IMERG). Algorithms developed by NASA's Precipitation Measurement Missions (PMM) science team were used to merge data from satellites in the GPM Constellation. This IMERG analysis shows rainfall accumulation during the week from July 9-13, 2018. Heavy monsoon rainfall is evident along India's Arabian Sea Coast and large areas of north-central India. During this period at least 525 mm (20.7 inches) of rain was reported in Mumbai, India.
Weekly IMERG rainfall accumulation totals at half hourly intervals from July 9-13, 2018 are shown with this animation. This animation indicates that during this period the locations of most of INDIA's heavy monsoon rainfall remained nearly stationary or increased in size while the area of Bangladesh's heavy rainfall shrank.