India's Monsoon Starts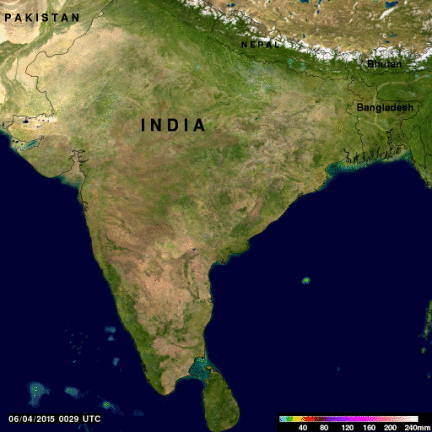 Monsoon rainfall, although a little later than normal, has started in southern India. Due to El Nino conditions India's monsoon is predicted to bring below normal rainfall this year. Cooling rainfall comes to the country after high temperatures preceding the monsoon have caused the reported deaths of over 2300 people.

Data from the NASA's Integrated Multi-satellitE Retrievals for GPM (IMERG) was used in this animation to show the advent of India's monsoon. Rainfall estimates for the past few days (4-5 June 2015) show that some heavy showers have dropped over 120mm (4.7 inches) of rain in the past few days. This analysis also indicates that the country of Nepal, that was recently hit by devastating earthquakes, was having some heavy rainfall preceding the monsoon in that area.