Intensifying Typhoon Damrey Threatens Vietnam
Intensifying Typhoon Damrey Threatens Vietnam
Typhoon Damrey has been increasing in intensity since forming in the South China sea west of the Philippines on November 1, 2017. Damrey has moved westward through the South China Sea and is now threatening southern Vietnam.
The GPM core observatory satellite passed above Damrey on November 3, 2017 at 0118 UTC when the typhoon's winds had reached about 65 kts (75 mph). The satellite's Microwave Imager (GMI) and Dual Frequency Precipitation Radar (DPR) instruments collected data showing the locations of rainfall within the typhoon. Damrey's center of circulation was evident but the typhoon didn't yet have a well defined eye. GPM found intense downpours in rain bands circulating around the typhoon. GPM's radar (DPR Ku band) discovered that a few powerful storms in a rain band west of Damrey's center were dropping rain at a rate of over 171 mm (6.7 inches) per hour.

Typhoon Damrey is in an environment that favors it's intensification. Vertical wind shear is low and the South China Sea is warm. The Joint Typhoon Warning Center (JTWC) predicts that typhoon Damrey's maximum sustained winds will increase to 85 kts (98 mph) before hitting Vietnam. This would make typhoon Damrey the equivalent of a category two hurricane on the Saffir-Simpson hurricane wind scale. It has been reported that Damrey would be the strongest typhoon to hit Vietnam in 16 years. The JTWC predicts that Damrey will start weakening after it goes ashore in Vietnam tomorrow. Damrey is predicted to weaken to a tropical depression before it enters the northern Gulf Of Thailand in a couple days.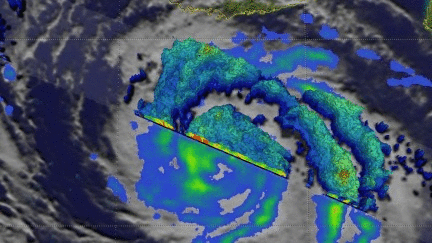 Images and caption by Hal Pierce (SSAI/NASA GSFC)