NASA's IMERG Estimates Of Rainfall Over The Eastern United States
NASA's IMERG Estimates Of Rainfall Over The Eastern United States
Most of the Eastern half of the United States had rainfall during the past week. Some parts of the country experienced heavy rainfall that resulted in flash floods and various other problems. Slow-moving storm systems and nearly stationary fronts were the cause of heavy rainfall over Virginia this past weekend. Several trees were brought down by a severe storm that hit Fredericksburg, Virginia Sunday Afternoon. Fallen trees blocked several roads, flash flooding occurred and electrical power was lost in that area.

Continuing heavy rain also fell in Texas over the weekend. This provided some badly needed drought relief in that area but heavy rainfall also resulted in over three dozen people being rescued on Sunday from flood waters along the Nueces River in south-central Texas.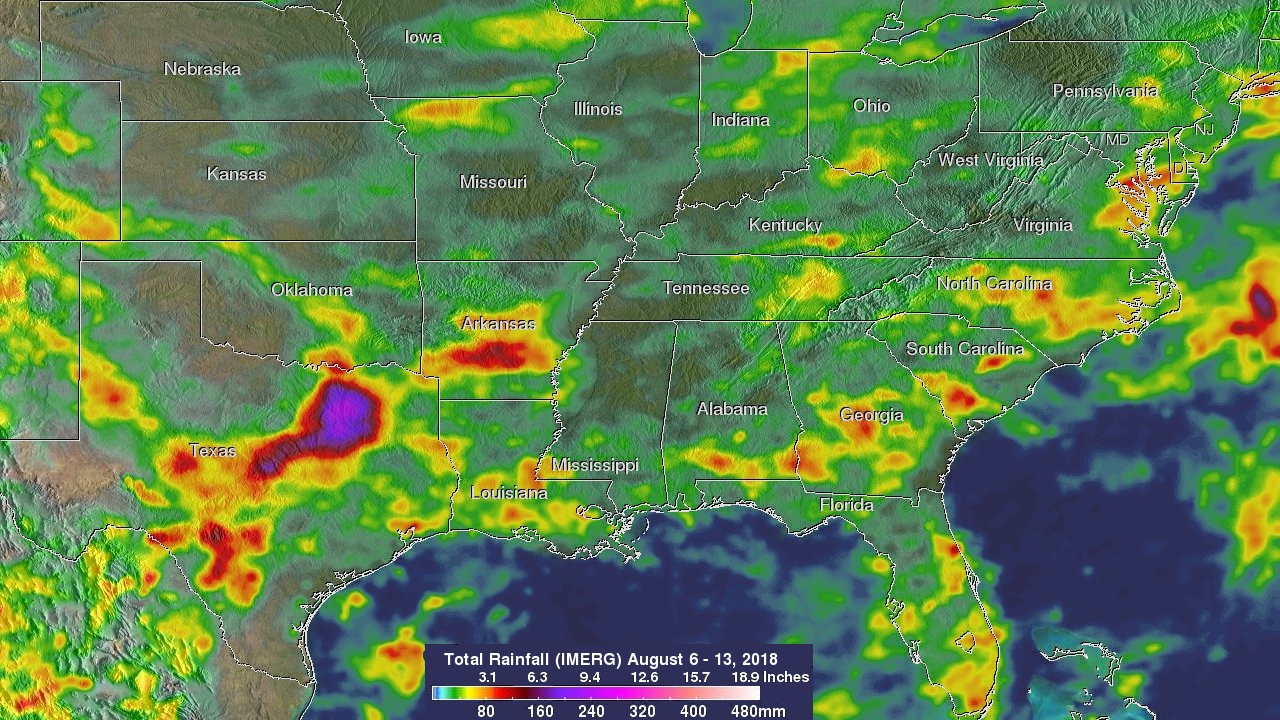 These rainfall accumulation estimates were derived from NASA's Integrated Multi-satellitE Retrievals data (IMERG). IMERG data were used to calculate estimates of precipitation totals from a combination of space-borne passive microwave sensors, including the GMI microwave sensor on the GPM satellite, and geostationary IR (infrared) data. NASA's Precipitation Measurement Missions (PMM) science team has developed algorithms that support GPM Missions such a IMERG. This analysis shows an estimate of IMERG rainfall accumulation totals during the period from August 6 to early August 13, 2018. IMERG data indicated that the highest rainfall accumulations of greater than 8 inches (203 mm) occurred over Texas. Areas of heavy rainfall accumulations above 4 inches (101.6 mm) were indicated in many other states from the south-central to northeastern United States.
Images and caption by Hal Pierce (SSAI/NASA GSFC)