Potential Eastern Pacific Tropical Cyclone Viewed By GPM
Potential Eastern Pacific Tropical Cyclone Viewed By GPM
The Eastern Pacific hurricane season officially starts on May 15, 2018. A low pressure center located well to the southwest of the Baja California Peninsula may develop into this area's first tropical cyclone of 2018. Low vertical wind shear and warm ocean temperatures in the vicinity of the low are providing favorable conditions for this low's development into a tropical cyclone. If it develops it will be called Aletta.
The GPM core observatory satellite passed over the center of the most intense convective storms in this potential tropical cyclone. Rainfall data collected by GPM's satellite's Microwave Imager (GMI) and Dual Frequency Precipitation Radar (DPR) instruments are shown in this analysis. GPM's Radar (DPR Ku Band) revealed the intensity of convective rain bands wrapping into the low's center of circulation. The area covered by the GPM satellite's radar swath is shown in lighter shades. DPR found that some of these storms were dropping precipitation at a rate greater than 97 mm (3.8 inches) per hour.
A 3-D examination of precipitation within the developing tropical cyclone was made possible with GPM's radar (DPR Ku Band). This 3-D cross-section view, looking toward the southwest, revealed the intensity of the precipitation in storms wrapping around the northern side of the developing tropical cyclone. This image shows that heavy downpours in that area were returning radar reflectivity values exceeding 49 dBZ (dark red) to the satellite. DPR also showed that the tallest storms in this area were reaching heights above 12.2 km (7.4 miles).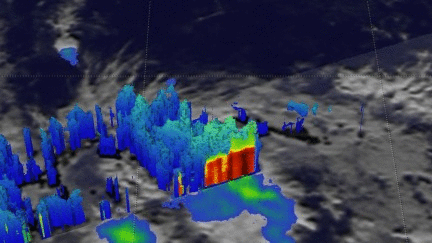 Images and caption by Hal Pierce (SSAI/NASA GSFC)