Powerful Hurricane Lane Probed By GPM Satellite
Powerful Hurricane Lane Probed By GPM Satellite
Hurricane LANE had moved westward into the central Pacific Ocean far southeast of the Hawaiian islands when the GPM core observatory satellite passed above on August 19, 2018 at 1643 UTC. LANE had intensified and had maximum sustained winds reaching about 105 kts (~ 121 mph) at that time. This made it a category three on the Saffir-Simpson hurricane wind scale. The GPM satellite's Microwave Imager (GMI) and Dual-Frequency Precipitation Radar (DPR) instruments provided highly accurate information about precipitation within the hurricane. GPM's GMI revealed rainfall coverage and GPM's radar (DPR Ku Band) provided precise rainfall intensity measurements near the hurricane's eye. GPM's radar found that rain was falling at a rate of over 89 mm (3.5 inches) per hour in an intense feeder band wrapping around the northern side of the hurricane. GPM's DPR (shown in lighter shades) also measured precipitation in powerful storms in LANE's eye wall that were dropping rain at a rate of over 143 mm (5.6 inches) per hour.
The GPM satellite's radar data (DPR Ku Band) were used to provide this unique 3-D cross-section view of rainfall intensity in hurricane LANE's eye wall. DPR revealed that very strong downpours there were returning radar reflectivity values greater than 57 dBZ to the GPM satellite. GPM's Ku band radar is capable of showing the 3-D structure of precipitation to heights of 19 km (11.8 miles). These GPM radar data revealed that the tops of very powerful storms in LANES eye wall were reaching heights above 14.3 km (8.9 miles).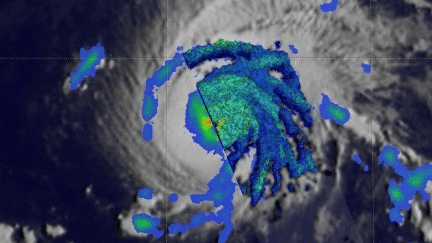 This 3-D animation shows the heights and intensity of storms within hurricane LANE. The lowest heights of the 17dBZ isosurface are blue while the tallest storm tops are shown in yellow.
Images and caption by Hal Pierce (SSAI/NASA GSFC)