Rainy Weather Over Pacific Northwest Measured From Space
Rainy Weather Over Pacific Northwest Measured From Space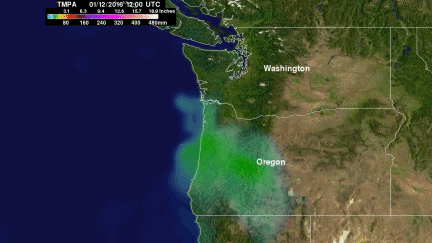 Stormy weather moving in from the Pacific Ocean has frequently affected the Pacific Northwest over the past week. Moisture moving over the Washington and Oregon coasts has been transformed into snow at colder and higher elevations in the Cascades. Coincidentally a field campaign called The Olympic Mountain Experiment (OLYMPEX) is being led by NASA in the Olympic Peninsula of Washington State from November 2015 through February 2016. An analysis of precipitation that occurred in the Pacific Northwest during the period from January 12-19, 2016 is shown here. This precipitation analysis from space indicates that rainfall totals of over 240 mm (9.4 inches) often fell in some areas of the Pacific Northwest during the past week. The average snow to liquid ratio is 10:1 so over 2400 mm (94 inches) of snow accumulation is possible at higher elevations in the Cascades.

This analysis of liquid precipitation from space was accomplished by using merged satellite rainfall data from the TRMM Multi-satellite Precipitation Analysis (TMPA). The TRMM satellite collected over 17 years of precipitation data from late 1997 to April 2015. Real-time precipitation data called 3B42RT are still being computed by climatological inter-calibration based on data collected by TRMM.
Rainy weather is predicted to continue over the Pacific Northwest during the next week with the heaviest precipitation occurring over the southern area.
Images and caption by Hal Pierce (SSAI/NASA GSFC)